Now that Nikon is shipping their new 200-500mm f/5.6e VR lens, one common question I am asked is how does it compare with the Tamron 150-600mm f/5-6.3 VC USD. The lenses are similar enough that I decided to do a side-by-side test with the differences between the lenses noted.
NOTE: This is a comparison with the original Tamron 15-600 lens. Tamron has since released their G2 version and I have added a new comparison using the updated lens.
Specifications
Specification
Nikon
Tamron
Lens Mount:
Nikon FX
Nikon FX
FX lenses can be mounted and used on DX bodies and will yield a 1.5x field of view difference, with the DX bodies appearing to be closer than when used on an FX body at the same focal length. This phenomenon is referred to as "Crop Factor" and is not unique to these lenses.
Focal Length:
200-500mm
150-600mm
The Tamron holds the advantage with it's extended range of 150-200mm and 500-600mm when compared to the Nikon. If you need more telephoto reach this is a key difference between these 2 lenses.
Aperture Range:
f/5.6 (max) – f/32 (min)
f/5-6.3 (max) / f/32-f/40 (min)
The Nikon is a constant f/5.6 aperture throughout the entire range. This is an advantage since your aperture does not change as you zoom in and out plus it is less than 1/3 stop faster at 500mm than the Tamron (although less than 1/3 stop is not significant).
Lens Construction:
19 Elements / 12 Groups
20 Elements / 13 Groups
The Tamron is a slightly more complex design, but the actual difference here is negligible.
Angle of View (Diagonal):
12°20′ – 5°00′ (FX)
8°00′ – 3°10′ (DX)
16°25′- 4°8′ (FX)
10°38′- 2°40′ (DX)
As mentioned in the focal Length comparison, the Tamron does have a wider range available, but the difference between 500mm and 600mm is less than 1°.
Filter Rotation:
No
No
Minimum Focus Distance:
86.4 in ( 2.2 m)
106.3 in (2.7m)
The Nikon is able to focus significantly closer than the Tamron (24in . /5m). Although this lens will typically be used for distant subjects the closer range of the Nikon can help if your subject is closer.
Filter Size:
ø95mm
ø95mm
Both lenses are able to take filters, but they require massive 95mm diameter filters that are quite expensive, especially circular Polarizers. I don't use filters on this focal range very often so this is more an observation than a complaint.
Image Stabilization:
Yes
Yes
In testing I did not see any significant difference between the 2 systems and feel like the 2 are fairly comparable in their operation.
Lens Hood Included:
Yes
Yes
Both hoods are very similar in design and the Tamron hood is only slightly longer than the Nikon hood. Both look as though they would offer good protection from flare and both will mount reversed on the lens when storing to save room in your bag.
Lens Case Included:
Yes
No
I appreciate that Nikon included a lens "case", but to be honest it is a soft pouch that I would probably not even take out of the plastic since it does not offer any real protection. The Lowepro Lens Case 13x32cm is a great case (Purchase from Amazon or Adorama) for either lens and offers ample padding for good protection.
Dimensions (Width x Length):
4.2 x 10.5 in. (108 x 267.5 mm)
4.2 x 10.1 in (105.6 x 257.8mm)
The Nikon is slightly longer but not really significantly so. Both lenses have the same maximum diameter.
Weight:
81.2 oz. (2300 g)
68.8 oz (1951g)
The Tamron is a bit lighter (12.4oz / 349g) which can be significant if you are hand holding for extended periods or hiking long distances with the lens.
Price:
$1,399 US
$1,069 US
The Tamron wins the price category at over $300 US less than the Nikon.
On paper I would say the Tamron is the winner between the 2 lenses, but not significantly so. I like the longer range and the price mostly, but there is more to a lens than just the specifications. Lets take a look at how the lens performs next.
Build Quality
Overall both lenses feel to be built to the same quality. Both lenses have a rubber gasket at the lens mount, but only the Tamron is officialy claimed to be "weatherproof". Note that weatherproof is not the same as waterproof. If you get caught in a light rain storm or gentle mist, the Tamron will likely stand up better than the Nikon, but neither company will warranty water damage. The Nikon lens features the standard Nikon USA 5-year warranty (when purchased from an authorized US dealer) while the Tamron offers 6-years (also when purchased from an authorized dealer). This is mostly a "feel good" warranty since most manufacturing defects show up the first time you use the lens or within a short time thereafter. Typically if something happens to a lens more than 30-60 days out it is not a warranty problem, but will be chalked up to normal wear and tear or abuse.
Both lenses include a tripod mount and they both operated similarly, the Nikon is slightly longer, while the Tamron had finger hold indents in the casting. I like the finger indents on the Tamron when carrying the lens and camera together, but I also like the long length of the Nikon.
One feature that should be noted on the Nikon 200-500mm lens is that it is compatible with the Nikon teleconverters. If you are using a body that is capable of focusing at f/8 (such the Nikon D7200, D750, D810 or D4x) you can mount the AF-S Teleconverter TC-14E III and still use autofocus. This gives you a maximum focal length of 700mm at f/8, which is a bit more reach than the Tamron, but with less light available.
Sharpness
In the following side by side test chart shots, each lens was tested in the center and at the edges at 200mm, 300mm, 400mm and 500mm. Additionally the Tamron was tested at 150mm and 600mm, which are not available focal lengths on the Nikon lens. Each focal length was tested at the widest aperture followed by f/8 and f/11 using a Nikon D750 (FX/Full Frame) body to test the full image circle of the lens. The test chart is a 20×30 print mounted on gator (similar to foam core), lit by 2 LED (306 LED bulbs in each) studio lights with soft boxes. Camera is mounted on a Manfrotto Carbon Fiber tripod with a Kirk Photo Ball head BH-3. Mirror lock up is used along with an infrared remote shutter release to ensure maximum quality of the test shot.
150mm
Center
Top Left
Top right
Bottom Left
Bottom right
200mm
Center
Top Left
Top right
Bottom Left
Bottom right
300mm
Center
Top Left
Top right
Bottom Left
Bottom right
400mm
Center
Top Left
Top right
Bottom Left
Bottom right
500mm
Center
Top Left
Top right
Bottom Left
Bottom right
600mm
Center
Top Left
Top right
Bottom Left
Bottom right
Autofocus
The Nikon lens features Nikon's AF-S Silent Wave focusing technology and the Tamron utilizes their USD Ultrasonic Silent Drive system. Both of these are very similar in how they work, utilizing an ultrasonic drive to move the focusing elements inside the lens. The lens remains constant in its size during focusing, but changes length when you zoom.
I can honestly say that I did not notice any differences in the auto focus performance of the two lenses. Both lenses were fast and accurate. They both operated silently as well.
Image Stabilization
Overall the image stabilization of both lenses worked well, but one thing that I noticed on the Nikon was a tendency of the image to jump around significantly more than the Tamron after a shot which meant I had to recompose slightly. This was a bit of a problem when shooting a burst as the image would jump around quite a bit from shot to shot. I have to say I was somewhat disappointed in the Nikon, I've come to expect better from them when it comes to their VR system. The following images show both lenses in a handheld comparison in a 5-shot burst. The Tamron did move a little bit, but the Nikon seemed to do it quite a bit more and it was very noticeable to me in actual shooting in the field.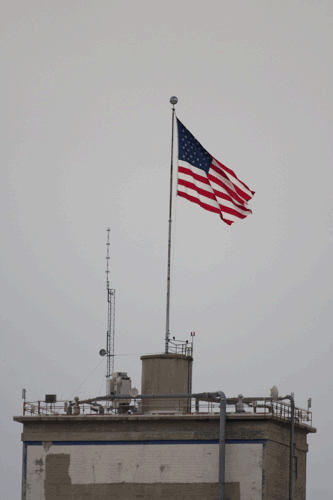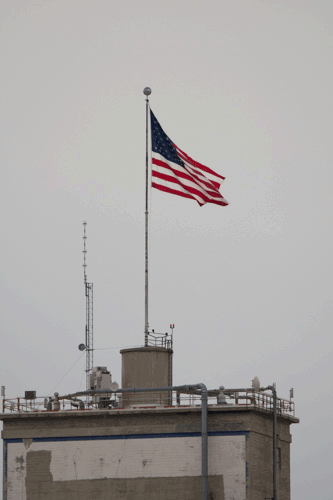 Distortion
Chromatic Aberration
Vignetting
Flare
The Bottom Line
Both lenses are excellent and choosing between them will certainly be difficult. The Tamron wins on the Price, weight and focal length specs for sure plus the added benefit of weather sealing, while the Nikon takes the constant aperture and minimum focus distance awards.
I have to give kudos to Nikon for building a relatively "budget" lens that extends beyond 300mm. Until the Nikon 200-500mm f/5.6e VR lens was introduced, our options for lenses longer than 300mm made by Nikon were limited to expensive zooms such as the 80-400mm f/4.5-5.6 VR II ($2,300-$2,700 from Amazon or Adorama) or the 200-400mm f/4 VR ($6,750-$7,000 from Amazon or Adorama). There are other offerings in the super telephoto zoom range such as the new Sigma 150-600mm Twins that I have not yet tested.
I was disappointed in the Nikon's VR system and the jumping image phenomenon that I note above in the image stabilization section. Other than that, I didn't have any complaints about either lens.
So which one should you buy? I am a sucker for a good value and since the Tamron is $300 less than the Nikon, I would vote for the Tamron, but some people are adverse to purchasing third-party lenses. As I was walking around with both lenses I tended to keep the Tamron on the camera due to its lighter weight and longer zoom range. The extra 100mm of telephoto rach was a strong advantage and the extra 50mm on the wide end came in handy. Overall you will be happy with either lens, but your wallet will like the Tamron better.
Sample Images
Nikon 200-500
Tamron 150-600
Lens specifications from manufacturers website. Price based on date of review and is subject to change