Canon EF 35mm f/2 IS USM Lens Review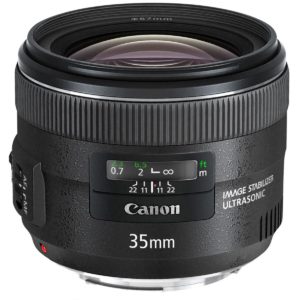 The Canon EF 35mm f/2 IS USM wide angle lens is a new wide angle lens from Canon that includes image stabilization. The lens is designed for full frame cameras and can be used on APS-C bodies. When used on APS-C bodies the lens gives a near normal 44mm equivalent field of view. The f/2 aperture is ideal for low light or shallow depth of field applications. The image stabilizer further enhances the low light use with non-moving subjects.
Pricing*
Canon EF 35mm f/2 IS USM&nbsp-&nbsp$599.99
*Pricing from Manufacturer's website - Current selling price may be different.
Check current pricing from these affiliates
What I Like
Image stabilization
Distance scale with hyper focal distance markings
What I Don't Like
Larger than it's predecessor
Does not include a lens shade
Overall User Rating
4.67 out of 5
based on 287 user reviews online.
: 75% (216.06)
: 20% (56.13)
: 4% (10.15)
: 1% (1.66)
: 1% (3)