Canon EF 40mm f/2.8 STM Lens Review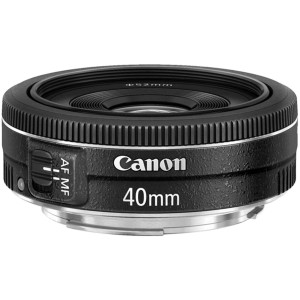 The Canon EF 40mm f/2.8 STM is a unique lens from Canon. It is a so-called "pancake" lens due to it's very short length. This lens is designed for full frame Canon DSLR cameras, but can also be used on APS-C bodies. When used on an APS-C body the lens shows an equivalent 64mm lens field of view on a full frame body.
I personally own and love this lens, especially on my Canon EOS 6D. The 40mm focal length is a near perfect match for my preferred photographic vision and style. When mounted on my 6D the lens is hardly even noticeable, and makes the camera very small and unobtrusive.
Pricing*
Canon EF 40mm f/2.8 STM&nbsp-&nbsp$199.99
*Pricing from Manufacturer's website - Current selling price may be different.
Check current pricing from these affiliates
Image quality
Image quality from this lens is excellent. Because it is not an extremely wide or telephoto lens, and a skimpier deisgn there is not a lot of glass to get in the way of great images. The f/2.8 aperture also helps with depth of field control as well.
Vignetting
The lens does show a little bit of vignetting, but nothing extreme and that can be easily corrected in post. Processing.
Distortion
the lens exhibits a little bit of barrel distortion, but he lens profile in Adobe Lightroom deals with this very well.
Chromatic Aberration
Again, this is a simple design and as a result the lens does have a little bit of chromatic aberration, however, like the disrtortion and vignetting characteristics, CA is easily fixed in post processing.
Lens Flare
I have not noticed any severe lens flare issues, even when shooting directly into the sun. The lens does not include a lens hood, and the optional hood is a very odd design that makes using filters difficult.
Build Quality
Build quality is decent. The lens has a metal mount while the rest of the lens body is made from good quality plastics.
What I Like
Size and weight
Image quality
autofocus performance
What I Don't Like
Does not include a lens hood
the lens hood is an odd design that makes filter use difficult
no image stabilization
no focus distance scale or hyperfocal distance markings
The Bottom Line
I LOVE this lens! It is a great focal length, and a very small lens to keep in your bag. The f/2.8 aperture is great for low light and shallow depth of field operations.
Sample Images
Click image to view larger - use your browser's "Back" button to return to this page.
Overall User Rating
4.68 out of 5
based on 1743 user reviews online.
: 74% (1287.2)
: 22% (382.85)
: 3% (53.17)
: 1% (10.39)
: 1% (9.39)