Canon EF 28mm f/2.8 IS USM Lens Review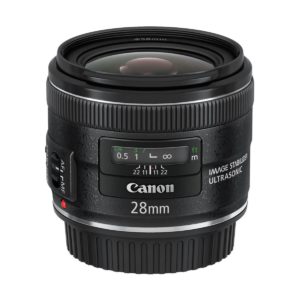 The Canon EF 28mm f/2.8 IS USM is a replacement to the older Canon EF 28mm f/2.8 and adds 2 very important features to the old design: Image stabilization and USM auto focus. This new lens is designed to be used on either full frame or APS-C bodies, but when used on APS-C bodies the field of view is similar to a 44mm lens on full frame bodies. The old lens was quite sharp and very well behaved both in the lab as well as the field. I have previously owned the older f/2.8 version of the lens and although I was using it on an APS-C body, I found it's performance to be very good.
Pricing*
Canon EF 28mm f/2.8 IS USM&nbsp-&nbsp$549.99
*Pricing from Manufacturer's website - Current selling price may be different.
Check current pricing from these affiliates
Overall User Rating
4.58 out of 5
based on 108 user reviews online.
: 74% (80.1)
: 16% (17.8)
: 6% (6.02)
: 1% (1.02)
: 3% (3.06)