Canon EF 28mm f/1.8 USM Lens Review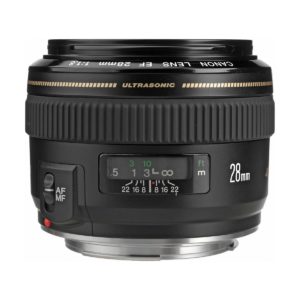 The Canon EF 28mm f/1.8 USM is an older design wide angle prime lens designed for full frame cameras. When used on APS-C cameras it will resemble a 44mm lens on a full frame camera. This makes it a near "normal" fast lens. Because it is full frame compatible, many Canon APS-C camera owners purchase this lens to use as a normal lens on their current camera knowing that if they ever ugrade to a full frame body they can use the lens unlike dedicated APS-C lenses such as the Sigma 30mm f/1.4. This lens features Canon's USM focusing motor for fast and silent auto focus operation. The f/1.8 max aperture makes this lens great in low light or for controlling depth of field. This lens uses 58mm filters and is reasonable small and light weight making it a great addition to many photographers kits. I have not formally tested this lens yet, but plan to in the future. I am very interested in this lens for use on my Canon EOS 6D full frame body for a great wide angle prime.
Pricing*
Canon EF 28 f/1.8 USM&nbsp-&nbsp$509.99
*Pricing from Manufacturer's website - Current selling price may be different.
Check current pricing from these affiliates
Overall User Rating
4.53 out of 5
based on 724 user reviews online.
: 65% (471.42)
: 28% (202.36)
: 3% (24.1)
: 2% (18.08)
: 1% (8.04)