Canon EF 28-135mm f/3.5-5.6 IS USM Lens Review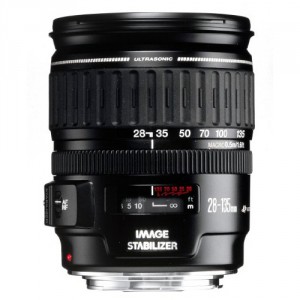 The Canon EF 28-135mm f/3.5-5.6 IS USM is a rather old and dated lens from Canon that pre-dates Digital SLR cameras. This lens is a bit of a surprise. Originally over $500, this lens has seen recent price cuts to less than $400, putting it in the "Kit Lens" price league, but this lens is a step above with it's great range, image stabilization and slightly better build quality. The image quality is also pretty good. This lens was sold as a kit lens option with the 50D, but this lens is a little awkward on a crop body since the 28mm setting is not very wide on those bodies, but if you have a full frame DSLR or a film camera it is a great lens, especially at the new lower price! I personally own this lens and use it frequently on my Canon EOS 6D full frame body as a walk around lens. Read on for my full Canon EF 28-135mm f/3.5-5.6 IS USM Review
Image Quality
This lens is surprisingly sharp, but if you are looking for "L" quality sharpness from this lens you will be disappointed, but if you are comparing this lens to the typical "kit" lens you will be pleased. The image stabilization is one of the first generation versions from Canon and is not as effective as newer lenses. However, this lens is a bargain and you get a little more than you pay with the current pricing on this lens.
Here are the MTF charts from Canon's Website: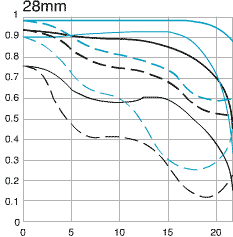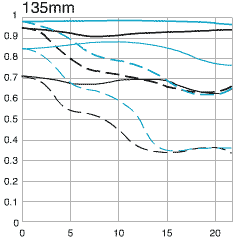 Vignetting
Vignetting is reasonably controlled, thanks to the f/3.5-5.6 aperture and the 72mm filter ring. There is still some there, but not as bad as some smaller lenses that I have used.
Distortion
The lens does have a bit of barrel distortion on the wide end and a bit of pincushion on the tele end, but with a 5x zoom range it is a decent performer. Most newer cameras have a lens correction profile that will help to fix this when shooting in jpg and most Raw conversion software has a lens profile as well making this pretty much a non-issue for most photographers.
Chromatic Aberration
CA is a bit high since this lens does not feature the modern glass designs, but like distortion this can be corrected in post fairly well.
Autofocus Performance
This lens uses Canon's Ultra Sonic Motor (USM) which provides very fast and silent autofocus. The lens also features a distance scale to help set hyperfocal distance. This lens does feature full time manual focus override for quick and easy focus tweaks on the fly without having to switch to MF on the lens.
Build Quality
This lens is not bad when it comes to Build Quality, but it's not great either. It is a step above the Kit lens options, but it is not anywhere near the "L" grade lenses, either. The lens does extend while walking around and does not feature a zoom lock to help with this minor issue. There is some wobble in the front element when the lens is fully extended, too.
This lens does feature focus distance markings as well as infrared focus distance. Like most zoom lenses it does not feature depth of field indicators on it.
What I Like
Great range
Image Stabilization
Good image quality
What I don't Like
Build Quality (the front feels a little loose when extended)
No lens hood included
The Bottom Line
On a full frame camera, this lens is a good all-around general purpose zoom. The autofocus is quick, the image stabilization works well and the image quality is good. The focal length is a great fit covering a moderate wide to a moderate telephoto. On an APS-C camera the lens feels a little odd – the focal length goes from almost "normal" to mid telephoto equivalent and you will find yourself wishing the lens was wider more than anything. I would suggest this lens only if you plan to upgrade from an APS-C body to a full frame body in the future, otherwise I would recommend the Canon EF-S 18-135mm f/3.5-5.6 IS STM for your APS-C cameras.
Pricing*
Canon EF 28-135mm f/3.5-5.6 IS USM&nbsp-&nbsp$479.99
*Pricing from Manufacturer's website - Current selling price may be different.
Check current pricing from these affiliates
Sample Images
Click image to view larger - use your browser's "Back" button to return to this page.
Overall User Rating
4.33 out of 5
based on 998 user reviews online.
: 55% (546.12)
: 31% (313.5)
: 8% (82.4)
: 3% (34.56)
: 2% (21.42)