Canon EF 24mm f/1.4L II USM Lens Review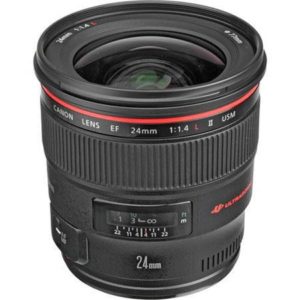 The Canon EF 24mm f/1.4L II USM is a wide angle professional grade prime lens designed for full frame cameras. It can also be used on APS-C bodies but will give an effective field of view of a 38mm lens on a full fame body. This is the second generation version of this lens. This lens is part of Canon's "L" series of lenses which feature great build quality and legendary image quality. I have not formally tested this lens yet, but plan to in the near future.
Pricing*
Canon EF 24mm f/1.4L II USM&nbsp-&nbsp$1549.00
*Pricing from Manufacturer's website - Current selling price may be different.
Check current pricing from these affiliates
Overall User Rating
4.71 out of 5
based on 353 user reviews online.
: 83% (294.75)
: 9% (31.2)
: 4% (14.85)
: 2% (6.9)
: 2% (5.3)