Canon EF 24mm f/2.8 IS USM Lens Review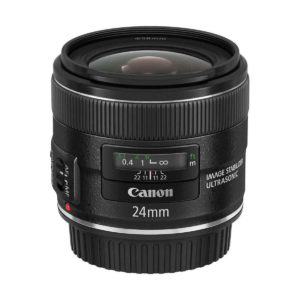 The Canon EF 24mm f/2.8 IS USM is a new wide angle prime lens from Canon that features image stabilization. This new lens promises great image quality and fast auto focus. The lens is designed for full frame cameras, but can be used on APS-C bodies as well. When used on APS-C bodies the lens will yield a field of view similar to a 38mm lens on a full frame body. I have not yet formally tested the lens yet but overall it seems to get positive reviews, although not stellar.
What I Like
58mm filter thread
Image stabilization
Distance scale with Hyperfocal markings
What I Don't Like
Does not include a lens hood
Not weather sealed (usually reserved for Canon's "L" series lenses)
Pricing*
Canon EF 24mm f/2.8 IS USM&nbsp-&nbsp$599.99
*Pricing from Manufacturer's website - Current selling price may be different.
Check current pricing from these affiliates
Overall User Rating
4.62 out of 5
based on 108 user reviews online.
: 69% (74)
: 27% (29.08)
: 4% (3.92)
: 0% (0)
: 1% (1)