Canon EF 16-35mm f/2.8L III USM Lens Review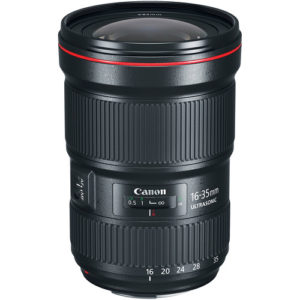 The Canon EF 16-35mm f/2.8L III USM is the third generation of the Canon fast aperture ultrawide zoom. The lens is designed for Full frame bodies such as the 6D, 5D and 1D series cameras, but can be mounted on APS-C bodies such as the Rebel series bodies. When mounted on an APS-C body the field of view is similar to a 26-56mm lens. I have not formally reviewed the lens yet, but have spent a little time with it and compared it with the Mark II version it replaces. A full write up and comparison is forthcoming shortly.
Image Quality
I have not had much time to fully test the lens yet, but am currently evaluating test images. In the meantime here are the MTF charts from Canon USA's website: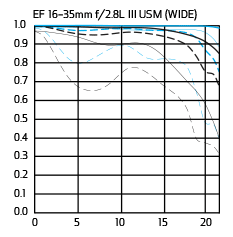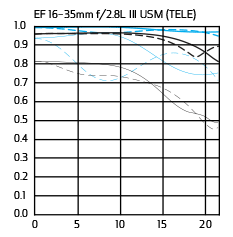 Build Quality
The lens feels nice and solid and like all Canon L series lenses is made from a combination of high quality plastics and metal.
What I Like
Constant f/2.8 Aperture
Great Build Quality
Includes Lens Hood
What I Don't Like
Lens is larger than the Mark II version it replaces.
No Image Stabilization
Cost
Pricing*
Canon EF 16-35mm f/2.8L III USM&nbsp-&nbsp$2199.00
*Pricing from Manufacturer's website - Current selling price may be different.
Check current pricing from these affiliates
Overall User Rating
4.77 out of 5
based on 123 user reviews online.
: 86% (105.97)
: 7% (8.09)
: 6% (6.99)
: 1% (1)
: 1% (0.95)