For filmmakers and photographers who want the look and feel only possible with extreme wide angle and fisheye photography, the new Canon EF 8-15mm f/4L Fisheye USM is a world-class choice. It delivers 180° diagonal angle of view images for all EOS SLR cameras with imaging formats ranging from full-frame to APS-C, and provides 180° circular fisheye images for full-frame EOS models. It features UD glass for suppression of chromatic aberration, a Subwavelength coating for reduced ghosting, a newly developed Fluorine coating that keeps soiling, smears and fingerprints to a minimum, has full-time manual focus for instant switching from AF to Manual operation, and is built to the standards of the amazing Canon L-series of lenses. This means the finest optics, the best construction and the best performance available, all in a lens designed to stimulate creativity and deliver stunning images every time.
Build Quality
This lens is part of Canon's "L" series class of lenses and as a result the build quality is excellent, made of high quality materials with zoom and focus rings that turn very smooth and feel nicely damped.  The lens is a little heavy, weighing in just over a pound (1lb 3oz), but that is to be expected based on the materials and construction of the lens.
Image Quality
Image quality is good for a fisheye lens, but as should be expected, this lens does have a LOT of distortion (afterall, it is a fisheye lens).  Images are sharp, but if you are looking for a lens that gives you a wide angle and does not distort, then I would suggest you move along and look at the other ultrawide angle lenses Canon offers instead.
Autofocus Operation
Fisheye lenses tend to be manual focus only, but this lens does feature auto focus and is quick and quiet thanks to the USM focusing motor.  Focus accuracy is typically not a problem since with this lens your depth of field is quiet deep, even wide open thanks to the ultrawide 8-15mm focal range.
MTF Charts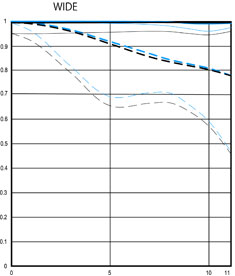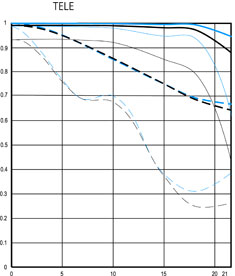 Product Image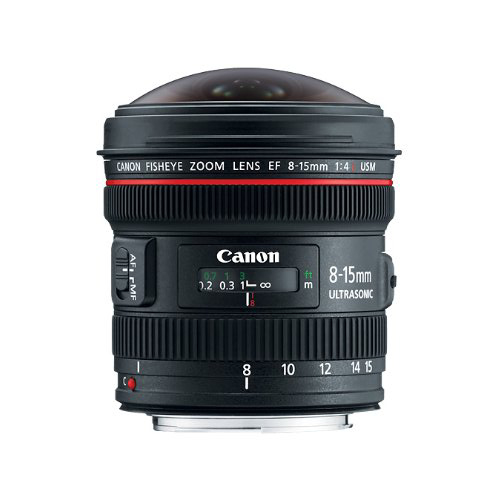 Dave's Conclusion
I have not formally tested this lens yet, but I have had the opportunity to use one briefly. The lens delivers good image quality with all the wild distortion that you would expect from a fisheye lens. When mounted to a Full Frame camera, shooting at wider than 15mm will yield a circular image with black borders on the frame since it does not cover the full frame sensor at the wider settings. When used on APS-C (EF-S) bodies you will get full sensor coverage and not see the black borders.
Fisheye lenses tend to be expensive and this lens is no exception. It has Canon's great "L" build and image quality, but the question of the day is do you really need a fisheye lens? For most people it is the funnest lens you will use a couple of times a year, and that makes it hard to justify the price of admission. This is one of those lenses I prefer to Rent when I need one.
Compared To
On full frame cameras there really is no lens like this one with which to compare. Most photographers would be tempted to compare it to other Ultra Wide Angle zoom lenses such as the 11-24mm, 16-35mm or 17-40mm, but those lenses are all designed to provide a rectilinear image without the fisheye distortion.
For APS-C bodies Tokina makes a cool 10-17mm fisheye zoom lens that is a lot less expensive (less than half the price) and does a good job. You won't get the legendary "L" build and image quality, but in a lens that is designed to distort reality, image quality is not the first thing you are looking for anyway.
Sample Images
I don't have any sample images from this lens as my time with it was very brief.
View photos taken withe the Canon EF 8-15mm f/4L Fisheye USM lens on flickr.com
Specifications
Lens Mount:
Focal Length:
8-15mm
Aperture Range:
f/4
Lens Construction:
 14 Elements / 11 Groups
Angle of View (Diagonal):
180°
Filter Rotation:
No
Minimum Focus Distance:
 6.2 in
.16 m
Focus Distance Markings
Yes
Hyper Focal Distance Indicators
No
Infrared Focus Distance:
Yes
Filter Size:
No Filters
Image Stabilization:
No
Lens Hood Included:
Yes
Lens Case Included:
Yes
Maximum Length:
3.7 in
83 mm
Maximum Diameter:
3.1 in
78.5 mm
Weight:
19.1oz
540g
Price:
$1,249
Lens specifications from manufacturers website. Price based on date of review and is subject to change
Purchase from Amazon.com
Please help support this website by purchasing using these links. Thanks!!