Sigma has announced a new 20mm f/1.4 HSM lens that will be a member of their prestigious Art lineup. The other Art prime lenses recently introduced by Sigma have received rave reviews and have earned a place in many professional photographers bags as dependable, superior quality optics. I am anxious to see if the 20mm f/1.4 lives up to the reputation of the other Art lenses. Kudos to Sigma for taking on such an amazing feat as creating a 20mm f/1.4 full-frame compatible lens! The Sigma 20mm f/1.4 HSM Art lens is expected to begin shipping in Mid November, 2015 and will sell for $899.
This lens will be very big and heavy. It weighs just over 2 pounds, and is over 5 inches long. It will also feature a 9-blade rounded diaphragm, which should help with the bokeh, although this is usually a weakness for ultra-wide angle lenses due to the massive field of view they cover. It also appears that it does not have a front filter thread, but information about the lens is still coming out. It is hard to tell, but it looks like the lens hood may be permanently affixed, and is not removeable, which may contribute to the overall length of the lens.
See the lens on Sigma's website: http://www.sigmaphoto.com/lenses/wide-angle-lenses/20mm-f1-4-dg-hsm-a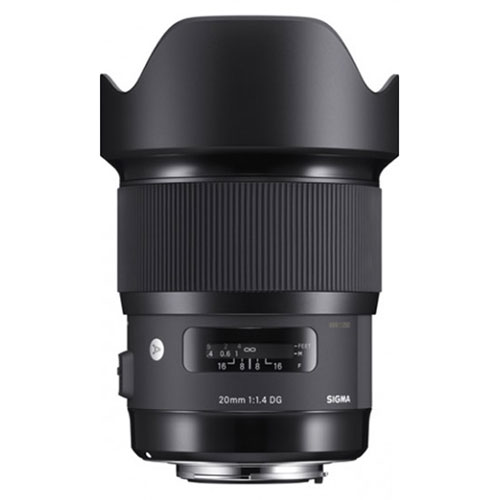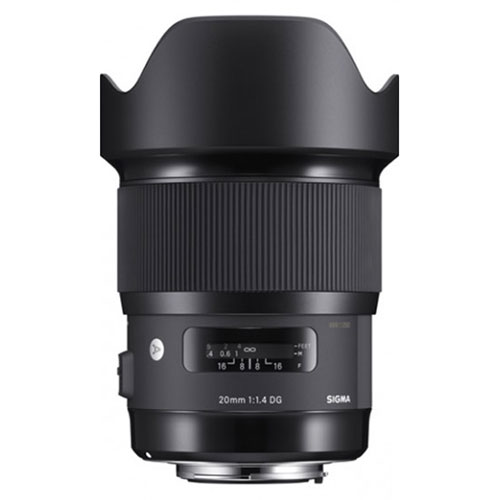 ​
Specifications
Lens Mount:
Canon EF, Nikon FX, Sigma SA

Focal Length:
20mm
Aperture Range:
f/1.4 (max)
f/16 (min)
Lens Construction:
15 Elements / 11 Groups
Angle of View (Diagonal):
94.5°
Filter Rotation:
No
Minimum Focus Distance:
10.9 in
27.69 cm
Focus Distance Markings
Yes
Hyper Focal Distance Indicators
Yes
Infrared Focus Distance:
No
Filter Size:
None
Image Stabilization:
No
Lens Hood Included:
Yes
Lens Case Included:
No
Max Length:
5.11 in
129.8 mm
Max Diameter:
3.57 in
90.7 mm
Weight:
2.09 lb
950 g
Price:
$899
Press release:
RONKONKOMA, NY — October 16, 2015 – Sigma Corporation of America, a leading DSLR lens and camera manufacturer, is setting new benchmarks for wide-angle image quality with the announcement of the newest Global Vision and market's first full-frame 20mm F1.4 lens, the Sigma 20mm F1.4 DG HSM Art lens. The lens will be on display at PhotoPlus International Conference + Expo in New York City from October 22-24. The lens will become available late November for the street price of $899.
This revolutionary prime lens is designed to bring out the full potential of ultra-high-megapixel DSLR cameras. With a focal length of 20mm and F1.4 aperture, this lens delivers outstanding large-aperture brightness and bokeh. Through decades of experience in lens design and Sigma Global Vision lens craftsmanship, the 20mm incorporates both "F" Low Dispersion (FLD) glass, and five Special Low Dispersion (SLD) glass in a design of 15 elements in 11 groups. The combination of advanced optics and optimized lens power distribution minimizes spherical aberration, axial chromatic aberration and field curvature, producing outstanding image quality. The wide angle and outstanding image quality make this lens great for seascape, cityscape, and astrophotography, as well as for photos in low light, indoor photography, portraits, and event and wedding photography.
"While many saw the development of a 20mm lens for today's super-resolution DSLRs as challenging, Sigma approached it head-on utilizing our advanced manufacturing technologies to create the world's first 20mm F1.4 ultra-wide-angle lens," said Mark Amir-Hamzeh, president of Sigma Corporation of America. "This new lens is a result of years of experience by the company's optical engineers in developing state-of-the-art lens designs and proven production knowledge, and high-precision craftsmanship by our factory team in Aizu, Japan."
From the start of the design process, Sigma took steps to minimize flare and ghosting, and established an optical design that is resistant to strong incidental light sources such as backlight with its Super Multi-Layer Coating. As with all Sigma Global Vision lenses, the 20mm F1.4 lens incorporates the latest Sigma technology, including an optimized autofocus (AF) algorithm for smooth, fast, and accurate focusing. In addition, Thermally Stable Composite (TSC) compound material is used, which has a high affinity to metal parts, consistently performs well at extreme temperatures, and reduces the size and weight of the lens.
This lens is compatible with Sigma's USB Dock, (sold separately) which allows photographers to update the lens' firmware, adjust focus points and customize full-time manual focus over-ride function settings using Sigma's Optimization Pro software. A new metal lens cap (LC907-02) is also available as a separate accessory for $23.
The Sigma 20mm F1.4 Art lens will also feature:
A Hyper Sonic Motor (HSM) that ensures a silent, high-speed AF function. Smoother AF is achieved when the this AF algorithm is optimized
A nine-blade, rounded diaphragm creates an attractive blur to the out-of-focus areas of the image
A brass bayonet mount of highly precise and durable construction to enhance mount's strength and long-term wear resistance
Specifications: Weight of 33.5 ounces; a diameter and length of 3.6 inches by 5.1 inches; a minimum aperture of F16; and angle of view (35mm) of 94.5°; minimum focusing distance of 10.9 inches; and a maximum magnification ratio of 1:7.1
Sigma fans can feel confident knowing that every 20mm lens that leaves Japan's factory has been tested using Sigma's own modulation transfer function (MTF) measuring system, "A1." Other prime lenses in the Art line include: 24mm F1.4 DG HSM, 30mm F1.4 DC HSM, 35mm F1.4 DG HSM, and 50mm F1.4 DG HSM.
Read more on PhotoRumors.com: http://photorumors.com/2015/10/16/sigma-20mm-f1-4-dg-hsm-art-lens-announced/#ixzz3okFBqYoW