Sony 70-300mm F4.5-5.6 G SSM II Lens Review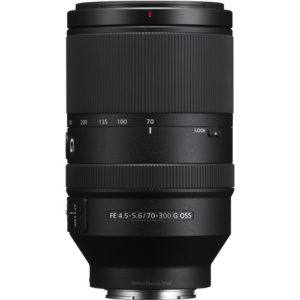 The Sony 70-300mm F4.5-5.6 G SSM II is a high quality 70-300mm zoom lens for both full frame and APS-C interchangeable mirrorless cameras. When mounted on the APS-C bodies it will give an equivalent field of view to a 105-400mm lens on a full frame body.
This lens is often compared with the older 70-200mm f/4 lens and looking at the overall ratings for both lenses the 70-200mm wins with an overall rating of 4.71 (based on 511 reviews) vs the newer 70-300mm lens having 4.57 out of 5 stars (based on 325 reviews). The Advantages of the 70-200mm are the constant f/4 aperture and the removable tripod mount while the advantage of the 70-300mm lens is the slightly smaller/lighter size and the extra 100mm of telephoto reach.
Pricing*
Sony 70-300mm F4.5-5.6 G SSM II&nbsp-&nbsp$1149.99
*Pricing from Manufacturer's website - Current selling price may be different.
Check current pricing from these affiliates
What I Like
Image Stabilization
Lens Hood Included
Excellent Image Quality
What I Don't Like
Price
Size
72mm filter thread (most 70-300mm lenses feature a 67mm or smaller filter thread)
The Bottom Line
Overall this is an excellent lens. It offers better image and build quality than your typical consumer 70-300mm zoom lens. Canon is the only other manufacturer to make a pro grade 70-300mm lens and this lens is pretty close to matching the Canon.
This lens (as well as the 70-200mm f/4) pairs well with the 16-35mm f/4 on full frame bodies – especially since both lenses take a 72mm filter. Throw in the 50mm f/1.8 for low-light and general purpose shooting and you have a very good 3-lens kit. On APS-C bodies this lens compliments either the 16-70mm f/4 Zeiss or the newer 18-135mm f/3.5-5.6. Throw in a 10-18mm and you have an excellent 3-lens zoom kit that goes from 10mm (15mm equivalent) to 450mm.
The real question becomes should you get this lens or the 70-200mm f/4 lens? While the 70-200mm lens is a little bit better overall in the ratings, if you need more reach or want a smaller/lighter lens then the Sony 70-300mm F4.5-5.6 G SSM II is a great option and should be strongly considered. If you need the faster f/4 constant aperture and don't mind the extra cost, weight and bulk, then the 70-200mm f/4 lens is the lens for you.
Overall User Rating
4.50 out of 5
based on 728 user reviews online.
: 74% (535.4)
: 16% (115.4)
: 4% (27.4)
: 2% (17.4)
: 3% (18.2)