Nikon AF-P NIKKOR 70-300mm f/4.5-5.6E ED VR Lens Review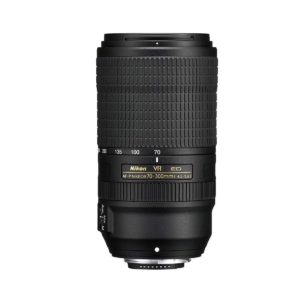 Nikon has announced a new 70-300mm lens for full frame (FX) DSLR cameras. The biggest changes are the new lens features Nikon's AF-P stepper motor focusing system, which is optimized for silent autofocus during videos, and a new 4.5-stop VR system. Do not confuse this lens with the DX version that was released earlier in 2017. This new lens is designed for Full Frame (FX) cameras. That means it will also work on APS-C (DX) bodies as well, but the DX version of this lens will crop significantly on full frame (FX) bodies.
One thing that I noticed right off the bat is the lack of a focus distance window. I like having these as it makes prefocusing easier. Also, since this is an AF-P lens, it will not function fully on older DSLR cameras (from Nikonusa.com: Incompatible models: D2 series, D1 series, D200, D100, D90, D80, D70 series, D60, D50, D40 series, D5100, D5000, D3200, D3100, D3000, film SLR cameras). The lens will mount, but the newer Electo aperture can't be controlled by the older cameras. Many newer cameras will likely require a firmware update to support the AF-P E lenses. This is unfortunate since this lens promises to be a good performer based on the MTF charts.
The lens does feature a weatherproof build and a metal mount which means it is a step up form the old 70-300mm VR lens in terms of build quality. The lens also continues to use the same 67mm filter thread as it's predecessor.
I will be curious to see how it performs once available. The selling price will be $699 and availability will be announced in the future. UPDATE: The lens is actually selling for $749.95 ins spite of the press release showing the $699.95 price.
Preorder yours from Adorama.com now!
Whats In The Box
The lens is shipped with the following:
Nikon AF-P NIKKOR 70-300mm f/4.5-5.6E ED VR Lens
Lens Hood
Front & Rear Body Caps
Soft Lens Pouch
Instruction Manual
Warranty Card
Max Aperture Throughout Zoom Range
70mm-89mm: f/4.5
90mm-111mm: f/4.8
112mm-149mm: f/5.0
150mm-209mm: f/5.3
210mm-300mm: f/5.6
Pricing*
Nikon AF-P NIKKOR 70-300mm f/4.5-5.6E ED VR&nbsp-&nbsp$749.95
*Pricing from Manufacturer's website - Current selling price may be different.
Check current pricing from these affiliates
Image quality
Since this is a new lens all we have to go on so far is the MTF charts published by Nikon. I am also including the MTF chart for the AF-S 70-300mm f/4.5-5.6 IF ED VR lens for comparison.
Here are the MTF charts for 70mm on both lenses. The New AF-P lens is shown first: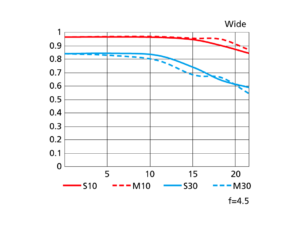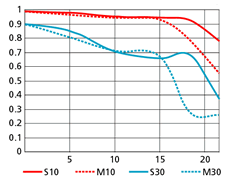 The new AF-P lens looks to be a bit better behaved and more consistent, especially in the corners, which is a good thing since this lens is designed for full frame bodies.
Here are the MTF charts for 300mm on both lenses, again the AF-P lens is shown first: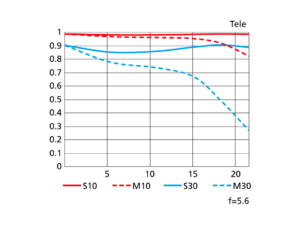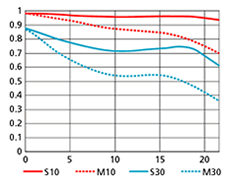 At 300mm the new lens looks to be a pretty good improvement for the most part, especially when stopped down.
Now that I have had a chance to do a quick and dirty test, I can say that I am pleased with the image quality. It is improved over it's predecessor. Images are sharper and more contrasty at all focal lengths, but it looks like special attention was paid to the 300mm lens setting. Most zoom lenses tend to lose image quality as you zoom in to the longer focal lengths, but the new Nikon AF-P NIKKOR 70-300mm f/4.5-5.6E ED VR looks very good at the 300mm zoom setting, even wide open.
Of course, like all lenses, the corners are not as good as the center, but the corners here are still very good.
I will be posting test images soon so be sure to check back.
Vignetting
This lens does show some vignetting – about 1 to 1-1/2 stops darker in the corners. I am pretty sure that it won't take long for lens profiles to be added to the popular RAW editing programs such as Adobe Lightroom for the new Nikon AF-P NIKKOR 70-300mm f/4.5-5.6E ED VR lens. Once those are added this will be easy to deal with in post processing.
Distortion
The lens does show some moderate barrel distortion at 70mm, but the good news is that at 300mm the distrtion is very minimal. I find that with telephoto zoom lenses most of my shots are taken at the longest focal lengths. Nikon got this memo as the lens really seems to be optimized for 300mm in this regard. Again I expect this will be pretty easy to deal with in post once the RAW software companies update their programs with new lens profiles. I also expect firmware updates for the current and recent Nikon bodies the will have the lens profile built in as well.
Chromatic Aberration
One weakness in the original lens was the extreme chromatic aberration when shooting wide open at the 200-300mm focal lengths. I am hoping that Nikon has remedied that, but we will have to wait and see once the lens becomes available. Thankfully, chromatic aberration is pretty easy to fix in post processing, but it would be nice if the new lens deals with this better. At $700 this is something I would expect to see improved.
The good news is that the new Nikon AF-P NIKKOR 70-300mm f/4.5-5.6E ED VR has improved indeed! Shooting with my D750 full frame body I did not see any significant signs of CA at any focal length.
Lens Flare
Lens flare in telephoto lenses is usually not a major issue, and since this lens includes a lens shade, I really expect this will not be much of an issue with this lens.
Build Quality
Another improvement over the original AF-S 70-300mm VR lens, this lens is officially "weather sealed". of course this does not mean "water proof" and the lens is not designed to be submerged in water. However, this is a nice feature since many of Nikon's upper end cameras (Nikon D7xxx, D7xx, D5xx, D8xx, and D4x bodies) are also weather sealed making this lens a good match when the weather turns a little moist. Weather sealing helps prevent water and dust from getting into the lens and can usually withstand a little light rain or snow. Don't expect the lens to survive hurricane force winds in the desert or rogue waves splashing over it.
After handling the lens I came away pretty impressed. The lens feels pretty solid. The zoom ring feels well damped and you can tell there is a gasket to keep moisture out. The focus ring also feels well damped and I noticed the same slight amount of resistance due to the weather resistant gasket.
One thing I was disappointed in is that the new Nikon AF-P NIKKOR 70-300mm f/4.5-5.6E ED VR does not have a distance scale. I personally prefer to have one, mostly so I can look to see if the lens is set to near or infinity focus and adjust accordingly. Prefocusing lenses helps to speed up AF acquisition. If my subject is far, be presetting the focus to infinity, the lens will start at the farthest focus setting and snap to focus a little faster. However, if you subject is far away and the focus distance is set somewhere in the middle, AF acquisition can take longer. Especially if the focus starts moving away from your subject, hits the near or far limit and then moves back towards your subject.
The new Canon 70-300mm IS II lens features a digital distance scale that not only shows this, but can display proper hyperlocal settings based on the zoom setting. I really wish Nikon had implemented this feature. However, see what I have to say about the AF performance above and the missing focus distance scale becomes less of an issue.
What I Like
Significantly faster autofocus performance
Improved image quality
Better build quality
Improved VR
What I Don't Like
No focus distance window
Limited compatibility
Higher price that the original when released.
The Bottom Line
I will be anxious to fully test this lens once it becomes available. I see this lens as a good travel/hiking alternative to the 200-500mm f/5.6 lens and if it performs to my expectations I will probably add this lens to my kit. Unfortunately we don't know when this lens will be available yet as Nikon has not announced a ship date yet.
Now that I have initially tested the lens with my full frame Nikon D750 body I can say I am very impressed with the overall package. Like all lenses, it is not perfect, but the lens is significantly improved over the original. If you shoot with a Full Frame Nikon (FX) body and you are looking at purchasing the original VR version or this lens, I would suggest you save up for the new version. The extra cost is worth it after initial testing. Faster (and quieter) autofocus performance alone is probably enough to justify the cost difference if you plan to shoot moving subjects such as birds in flight. The improved image quality is also enough to justify the additional cost alone. Throw in the weather sealed body and this lens becomes a win-win-win.
If you already own the original AF-S 70-300mm VR version you will still want to take a hard look at the new version for the same reasons listed above. yes, the new lens really is better.
Looks like I will be saving up to add this lens to my personal kit.
If you are shooting with a DX body such as the Nikon D7xxx, D5xxx, or D3xxx the question will become should you get this lens or the DX version? I have not tested the DX version yet, but the general consensus is that the DX version is also very good. The DX version is a little less than half the price ($349 vs $749) and smaller (58mm filter thread vs 67mm) and lighter (0.89lbs vs 1.5lbs). If you are using the 18-105mm, 18-140mm or the 16-85mm DX lenses I would possibly lean towards the newer lens since these lenses all use 67mm filter threads, but the price difference makes that a tough justification for the new FX version of the lens. The convenience of the DX version size is probably good reason alone to purchase that one. Unless, that is, if full frame is in your future or if you are a dual system shooter and use both a DX and an FX body. In that case I would recommend the FX version of the lens.
Overall User Rating
4.78 out of 5
based on 27 user reviews online.
: 81% (22)
: 15% (4)
: 4% (1)
: 0% (0)
: 0% (0)