Canon EF 70-300mm f/4-5.6L IS USM Lens Review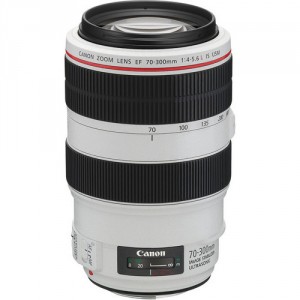 The Canon EF 70-300mm f/4-5.6L IS USM was released by Canon to great fanfare as a professional grade 70-300mm telephoto zoom lens. Typically the 70-300mm lens is considered a "consumer" lens. This is the first such lens to feature the robust build quality and weatherproofing along with "better" image quality characteristics.
This lens is designed for full frame Canon EOS DSLR bodies and works especially well on APS-C bodies. On the APS-C bodies this lens delivers a field of view equivalent of 112-480mm. This is a very popular budget "wildlife" lens on APS-C bodies. Although with a maximum aperture that varies from f/4-f/5.6 this lens will force you to increase your ISO in lower light. But the alternative is a lens such as the EF 300mm f/2.8 L IS II USM. Unfortunately that lens will set you back almost $6,100!
Pricing*
Canon EF 70-300mm f/4-5.6L IS USM&nbsp-&nbsp$1349.00
*Pricing from Manufacturer's website - Current selling price may be different.
Check current pricing from these affiliates
What I Like
Build Quality
Image Quality
Includes Lens shade and Pouch
Image Stabilization
The Bottom Line
The Canon EF 70-300mm f/4-5.6L IS USM is a great lens for the more serious photographers. When used on an APS-C Canon DSLR body the lens yields a 112-480mm equivalent focal length making this lens a great option for wildlife photographers. If only it weren't so expensive, big and heavy, but that is the price you pay for the build and image quality you get from this lens. This is one of those lenses that if you can afford it, I recommend it highly, but for the more budget minded photographers I would suggest you take a hard look at the Tamron 70-300mm f/4-5.6 VC USD or the new upcoming Canon EF 70-300mm f/4.5-5.6 IS II USM lenses instead.
Overall User Rating
4.71 out of 5
based on 872 user reviews online.
: 78% (679.68)
: 17% (148.2)
: 3% (30.06)
: 1% (11.03)
: 0% (3.03)