Canon EF 70-300mm f/4.5-5.6 IS II USM Lens Review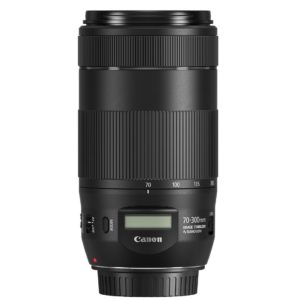 The Canon EF 70-300mm f/4.5-5.6 IS II USM lens is the second generation version of the highly popular 70-300mm class of zoom lenses. This lens is targeted at entry level to advanced amateur photographers. The New Canon does bring some unique tech to the table. It features a new Nano USM focusing which is supposed to improve autofocus operations for both still and video. It also features a digital display unit that can show the focus distance along with hyperfocal distance marks.
I am looking forward to this lens and publishing a full review as soon as I can get one. Expect that this lens will be a great seller for Canon. I would not be surprised to see them in short supply initially, especially at the $549 initial selling price. In the meantime, this page is a placeholder for my full review with some of my thoughts and the full lens specs.
Pricing*
Canon EF 70-300mm f/4.5-5.6 IS II USM Lens Only&nbsp-&nbsp$549.99
*Pricing from Manufacturer's website - Current selling price may be different.
Check current pricing from these affiliates
Image quality
Since this is a new lens that is not expected to start shipping until the End of November, here are the MTF charts from Canon for us to review. I am including the MTF charts for the original EF 70-300mm f/4.5-5.6 IS USM lens and the EF 70-300mm f/4.5-5.6L IS USM lens for comparison.
Wide angle: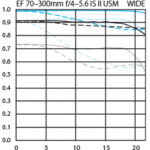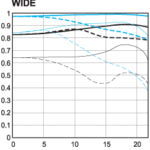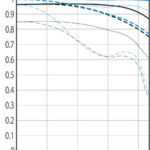 At wide angle there does not appear to be much difference in the image quality between the 3 lenses. This is somewhat to be expected since 70mm is not the hardest aspect of the lens design. What is surprising is that the new 70-300mm II lens seems to have a very slight advantage over the "L" lens. I don't know if this difference would be visible in prints but will be interesting to see.
Telephoto: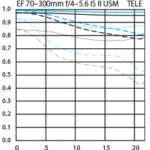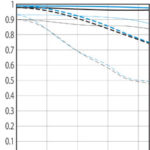 This is the part that I am really looking forward to testing. In my own test of the original
Canon 70-300mm vs the Tamron 70-300mm
I noticed that the Canon was slightly softer than the Tamron, but looking at these charts it looks like the new 70-300mm II version of the lens might even give the "L" a little pressure. I am very excited to get my hands on the new version and test it against the "L" and the Tamron lenses.
Build Quality
Overall the build quality feels decent. Obviously the lens is not built to "L" quality standards and as such does not have any weather sealing, but in the hand the lens feels pretty solid.
What I Like
Autofocus Performance
Image Stabilization
LCD with depth of field and focus distance indicators
Price
67mm filter size
What I Don't Like
Lens hood not included
The Bottom Line
If you want a 70-300mm lens for you Canon APS-C or Full Frame camera the new Canon EF 70-300mm f/4.5-5.6 IS II USM is my top recommendation if your budget won't allow for the "L" lens. Before this lens I would heartily recommend the Tamron 70-300 VC lens over the Canon 70-300mm lens due to the better autofocus and the significantly lower price. With this new lens, Canon has addressed my 2 biggest complaints in the old lens, and lowered the price to boot!
Overall User Rating
4.66 out of 5
based on 358 user reviews online.
: 79% (283.97)
: 14% (51.3)
: 2% (6.22)
: 2% (6.45)
: 3% (10.06)