Canon EF 24-105mm f/4L IS II USM Lens Review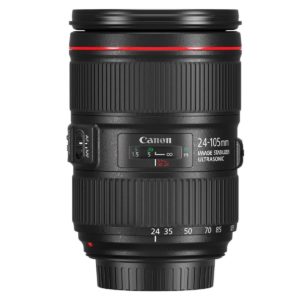 The Canon EF 24-105mm f/4L IS II USM lens is a newer version of the original Canon EF 24-105mm f/4L IS USM lens that promises improved image quality over the original. It features an all new optical design with 17 elements in 12 groups. Also among the improvements are 4 glass-molded (GMo) aspherical lenses on 5 surfaces to provide excellent resolving power. These improvements also help to increase peripheral brightness for better edge-to-edge performance and reduced distortion.
Another improvement is found in the Image stabilization system, which Canon says is good for up to 4-stops compared with 3-stops on the original design.
The original 24-105mm f/4L was a decent performer and a pretty good value – especially when purchased with a camera body at a tremendous discount. The new vesrion will likely continue that tradition, filling a niche for a great walk-around lens with great image quality and a versatile range.
Pricing*
Canon EF 24-105mm f/4L IS II USM&nbsp-&nbsp$1099.00
*Pricing from Manufacturer's website - Current selling price may be different.
Check current pricing from these affiliates
Overall User Rating
4.66 out of 5
based on 228 user reviews online.
: 81% (185.24)
: 11% (25.78)
: 3% (6.52)
: 2% (4)
: 3% (6.46)