Canon EF 200mm f/2.8L II USM Lens Review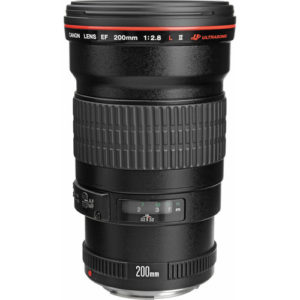 The Canon EF 200mm f/2.8L II USM is a telephoto prime lens designed for Canon Full Frame and APS-C bodies featuring a fast f/2.8 aperture in a reasonably small and in inexpensive package. I have not formally reviewed this lens yet, but the lens is generally highly regarded by it's owners.
From Canon USA's website
Telephoto lens boasting high image quality and carrying ease. With two UD-glass elements and rear focusing to correct aberrations, image delineation is extremely sharp. Background blur is also natural-looking, as was simulated by Canon. The lens comes with a dedicated, detachable hood.
What I Like
What I Don't Like
Not image stabilized
Tripod mount sold separately
Pricing*
Canon EF 200mm f/2.8L II USM&nbsp-&nbsp$749.99
*Pricing from Manufacturer's website - Current selling price may be different.
Check current pricing from these affiliates
Overall User Rating
4.82 out of 5
based on 307 user reviews online.
: 84% (257.66)
: 14% (42.04)
: 2% (7.3)
: 0% (0)
: 0% (0)