Canon EF 200-400mm f/4L IS USM Extender 1.4x Lens Review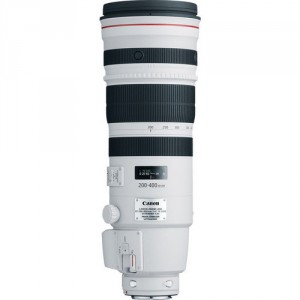 The Canon EF 200-400mm f/4L IS USM Extender 1.4x is a unique telephoto zoom lens for Canon full frame and APS-C Digital SLR cameras. It is a constant f/4 aperture throughout the 200-400mm zoom range making it a very good option for wildlife photographers.
But what really sets this lens apart is the built in 1.4x teleconverter. This makes the lens a 320-560mm f/5.6 lens without having to take the lens off, mount a converter and remount the lens on the body. However, at $11,000 it is not a lens that will find a home on most photographer's kits, but will be a great rental option.
I have not tested this lens yet, but really want to soon. From what I have seen the image quality is very good and if you are a wildlife photo enthusiast this is one of the "must have" lenses.
What I Like
Constant f/4 aperture
Built in teleconverter
Image stabilized
What I Don't Like
Size and weight (this lens is a monster, but no worse than similar lenses in its class)
Price (The Nikon 200-400 sells for about $4,000 less)
Pricing*
Canon EF 200-400mm f/4L IS USM Extender 1.4x&nbsp-&nbsp$10999.00
*Pricing from Manufacturer's website - Current selling price may be different.
Check current pricing from these affiliates
Overall User Rating
4.91 out of 5
based on 51 user reviews online.
: 92% (47)
: 6% (3.16)
: 2% (0.84)
: 0% (0)
: 0% (0)