Sony A6000 Camera Review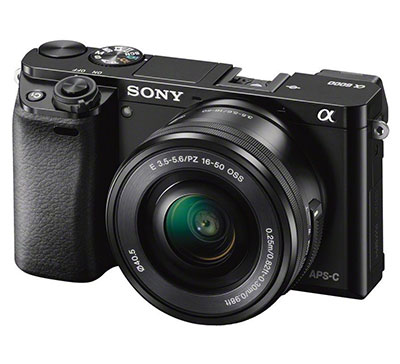 The Sony A6000 is another camera that I not only recommend, but personally own as well. My wife and I went to Disneyland in 2014 and I carried with me my Canon Canon 70D with EF-S18-135mm f/3.5-5.6 IS STM lens and the entire time I kept thinking to myself, "I really wish I had the Sony A6000 for this trip instead". A month after we got back, I bought mine, along with the 55-210mm lens at a killer discount.
I have to admit that when Mirrorless cameras first came on the scene I was not a fan. The autofocus was too slow, the battery life was miserable, and the lens selection was not great. Fast forward a few years and the Autofocus and the lens selection has been mostly sorted out, but of course the battery life issue is still pretty bad, especially when compared to my traditional DSLR cameras that get 3-4 times more shots per battery charge! So why do I like this camera so much?
Pricing*
Sony A6000 Body Only&nbsp-&nbsp$399.99
Sony A6000 with 16-50mm Lens&nbsp-&nbsp$549.99
Sony A6000 with 16-50mm Lens and 55-210mm Lens&nbsp-&nbsp$699.99
*Pricing from Manufacturer's website - Current selling price may be different.
Check current pricing from these affiliates
Size & handling
I love the small size of the Sony A6000! I take it with me pretty much everywhere I go, including 20+ mile bike rides! The camera with the 16-50mm lens is not much bigger than my Nikon P7000, but is a LOT smaller than my Canon EOS 6D. It has plenty of external controls and even a few that I can program to whatever I want. The electronic viewfinder is a sheer joy to use, especially when reviewing images in bright sunlight or changing settings since everything is visible in the viewfinder. Another benefit to the Live View is the option to view a live histogram and "Exposure Simulation". I shot a rock climbing competition in January and shot it completely in "Manual" exposure mode and thanks to these 2 features I was able to avoid any exposure errors pretty easily.
Setting a custom white balance is not only easy, but I love that it provides you with the actual settings the camera is using. I programmed the "C1" button to be a shortcut to the White balance settings, so simply pressing this button brings up the menu and I just scroll down to the "Set WB" option, point at my gray card, hit the center "OK" button, then press "OK" again to confirm.
Image quality
Image Quality
Image quality of the Sony A6000 is excellent at base ISO (100) all the way up to ISO 2000. After that the image quality starts to deteriorate, but I would still be comfortable printing 8x10s at ISO 3200. Sony produces the sensors for several other manufacturers and this is the same sensor that several of them use. If it wasn't good, the other manufacturers wouldn't use it either, right? See the following ISO sample images. These are 100% crops (click to see full size) from the A6000 with noise reduction turned off:
Autofocus Performance
This Sony A6000's autofocus is unbelievable. Not only is it super fast, it is super accurate! one of the advantages of the AF sensors being built into the imaging sensor is that you don't have to worry about AF calibration issues like you do with traditional DSLR cameras. Not to mention the ability to use face detection and even program specific faces into the camera and if it sees those faces will place the AF priority on them instead of random strangers like some face detection systems. The camera can track moving subjects as they move across the frame and fire off 11 frames per second with full AF. Only the $5,000+ Canon and Nikon flagship cameras can do that!
What I Like
Small Size
Light Weight
Electronic Viewfinder
What I Don't Like
Not all is rosy in mirrorless land (yet). The Sony A6000 does struggle to autofocus in low light, even with my 50mm f/1.8 lens. When the light gets dim the camera will hunt and peck and give up too easily. It is also a little slow to display images right after a shot is taken. I turn off the instant review so that the last shot does not show up and interfere with composing my next image in the viewfinder, but if I shoot a picture and hit the play button, the camera warns me it can't perform that operation and it can take 1-2 seconds before I can review the image. Of course there is still the battery life issue. I get around one-third the shots that I get from my DSLR on my A6000. And I really REALLY wish that Sony made a 70-300mm FE Mount lens with stabilization! The 55-210 is a decent lens, but there are times when you really need 300mm!
The Bottom Line
If you are looking for a camera that will give you DSLR quality but is not much larger than a point and shoot, look no further, the Sony A6000 fits the bill. Mirrorless is likely the future as the technology continues to improve. Consumers want smaller, always have, always will. Afterall, the best camera is the one you have with you.
Sample Images
Side-by-Side Comparisons
Overall User Rating
4.56 out of 5
based on 1396 user reviews online.
: 74% (1038.5)
: 16% (225.75)
: 4% (51.75)
: 2% (31.25)
: 3% (48.75)

Shop
Specs
Sensor Size
APS-C (1.5x)
Megapixels
24
Body Construction
Composite
Dimensions (WxHxD)
4.72 x 2.63 x 1.78
Weight
Body Only 0.63
Weather Sealed
No
Memory Card
SD/SDHC/SDXC Memory Stick Duo
Dual Command Wheels
Yes
Viewfinder Type
Electronic
Viewfinder Coverage
100
ISO Range
100-25600
Mirror Lock Up
Not Applicable
Burst Rate
11
LCD Size
3
LCD Resolution
921000
Articulated LCD Screen
Tilt Only
Touchscreen
No
Image Stabilization
No
Remote Shutter Release
Wireless (InfraRed) only
WiFi
Yes
GPS
No
AF Points
179
AF Sensitivity
n/a
Minimum Shutter Speed
30
Maximum Shutter Speed
1/4000
Flash Sync Speed
1/160
Built In Flash
Yes
Wireless TTL Flash
No
Video Specs
1920 x 1080 (60p, 60i, 24p),
1440 x 1080 (30p, 25p),
640 x 480 (30p, 25p)
Mic In
No
Headphone Out
No
Built In Mic
Stereo