Nikon D3400 Camera Review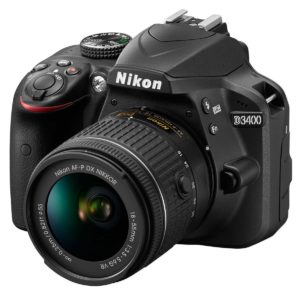 The Nikon D3400 was introduced by Nikon in 2016 as the latest entry level digital SLR camera. It replaces the Nikon D3300 in their DSLR lineup. At under $500 this camera is sure to get a lot of attention from photographers looking at their first DSLR camera. One problem Nikon has is an abundance of D3300 cameras at the time the D3400 was announced. Many of these potential buyers will be faced with the decision of getting the "latest and greatest" or saving a few bucks and getting the previous version. This review will help you decide which one you should get.
Pricing*
Nikon D3400 w/ 18-55mm lens&nbsp-&nbsp$499.99
*Pricing from Manufacturer's website - Current selling price may be different.
Check current pricing from these affiliates
Overall User Rating
4.55 out of 5
based on 64 user reviews online.
: 72% (46)
: 20% (13)
: 3% (2)
: 0% (0)
: 5% (3)

Shop
Specs
Sensor Size
APS-C (1.5x)
Megapixels
24
Body Construction
Composites/plastics with Metal lens mount
Dimensions (WxHxD)
4.9 x 3.9 x 3.0
Weight
Body Only 0.875
Weather Sealed
No
Memory Card
SD/SDHC/SDXC
Dual Command Wheels
No
Viewfinder Type
Pentamirror
Viewfinder Coverage
95
ISO Range
100-25600
Mirror Lock Up
No
Burst Rate
5
LCD Size
3
LCD Resolution
921,000
Articulated LCD Screen
No Articulation
Touchscreen
No
Image Stabilization
No
Remote Shutter Release
Wireless (InfraRed) only
WiFi
Yes
GPS
No
AF Points
11
AF Sensitivity
-1 to 19ev
Minimum Shutter Speed
30
Maximum Shutter Speed
1/4000
Flash Sync Speed
1/200
Built In Flash
Yes
Wireless TTL Flash
No
Video Specs
Full HD 1,920x1,080 / 60 fps
Full HD 1,920x1,080 / 50 fps
Full HD 1,920x1,080 / 30 fps
Full HD 1,920x1,080 / 25 fps
Full HD 1,920x1,080 / 24 fps
HD 1,280x720 / 60 fps
HD 1,280x720 / 50 fps
Mic In
No
Headphone Out
No
Built In Mic
Mono