Canon EOS 80D Camera Review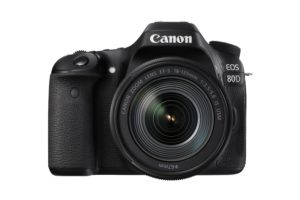 The Canon EOS 80D is the latest in the Canon XXD line of cameras targeted at Advanced Amateur photographers looking for a camera a little more featured than the Rebel series, but still within a "budget" price point. The 80D features an all new 24mp Dual Pixel CMOS sensor and adds a headphone jack to monitor audio when recording video as well as a 100% viewfinder. I have not formally reviewed the 80D yet, but have been impressed with the little time I have had with it and look forward to putting it through it's paces in the near future.
Pricing*
Canon EOS 80D Body Only&nbsp-&nbsp$1199.99
Canon EOS 80D w/ Ef-S 18-55mm f/3.5-5.6 IS STM Lens&nbsp-&nbsp$1399.99
Canon EOS 80D w/ EF-S 18-135mm f/3.5-5.6 IS STM Lens&nbsp-&nbsp$1799.99
*Pricing from Manufacturer's website - Current selling price may be different.
Check current pricing from these affiliates
Product Images
Size & handling
Overall the Canon EOS 80D feels pretty good, although some photographers might feel it is a little on the large size, especially when compared to mirrorless cameras such as the Sony A6000 camera that offers similar performance. The controls are very easy to reach and don't require you to re-position your grip to reach most of the buttons, except for the power switch. I really wish that Canon would put the power switch by the shutter button like Nikon, Pentax and Sony. This makes turning the camera on a little more difficult, but it is not a deal breaker by any means.
Build Quality
The Canon EOS 80D features a magnesium alloy body except for the top plate which is plastic to allow the WiFi signal to get out. The camera is environmental sealed against minor rain, snow and small splashes, but it is not "waterproof" and should not be submerged. I have heard stories of photographers shooting on the beach or a dock and having a big wave hit them and the camera survives, but I would not recommend doing that often.
What I Like
Tilt and Swivel LCD Screen
Image quality
Headphone Jack for monitoring audio when shooting video
Touchscreen
Autofocus Performance
Wireless TTL control with built in flash
100% Viewfinder
What I Don't Like
No direct White Balance control button
No built in GPS
No 4k Video
The Bottom Line
The Canon EOS 80D is a solid update to the already great Canon EOS 70D with an all new 24mp sensor featuring Canon's awesome dual-pixel CMOS sensor for great autofocus performance when using live-view and shooting video. In addition to the new sensor the 80D also has a headphone jack, something I felt the 70D was really missing based on it's great video capabilities. I have previously owned several of the XXD bodies from Canon beginning with the 20D up to the 70D, which I traded towards my current camera, the Canon EOS 6D. I sometimes toy with picking up an 80D for wildlife and sports to supplement my Sony A6000. The Video Creator kit is a great option if you are an aspiring videographer as it includes the new EF-S 18-135mm IS USM lns, a Rhode mic and the new power zoom module as well as an SD memory card.
Side-by-Side Comparisons
Overall User Rating
4.67 out of 5
based on 353 user reviews online.
: 80% (281)
: 14% (51)
: 2% (6)
: 2% (7)
: 2% (8)

Shop
Specs
| | |
| --- | --- |
| Sensor Size | APS-C (1.6x) |
| Megapixels | 24 |
| Body Construction | Magnesium Alloy |
| Dimensions (WxHxD) | 5.47 x 4.14 x 3.09 |
| Weight | 1.61 |
| Weather Sealed | Yes |
| Memory Card | SD/SDHC/SDXC |
| Dual Command Wheels | Yes |
| Viewfinder Type | Pentaprism |
| Viewfinder Coverage | 100 |
| ISO Range | 100-25,600 |
| Mirror Lock Up | Yes |
| Burst Rate | 7 |
| LCD Size | 3 |
| LCD Resolution | 1,040,000 |
| Articulated LCD Screen | Tilt & Swivel |
| Touchscreen | Yes |
| Image Stabilization | No |
| Remote Shutter Release | Wired & Wireless (InfraRed) |
| WiFi | Yes |
| GPS | Optional |
| AF Points | 45 (all cross type) |
| AF Sensitivity | -3ev |
| Minimum Shutter Speed | 30 |
| Maximum Shutter Speed | 1/8000 |
| Flash Sync Speed | |
| Built In Flash | Yes |
| Wireless TTL Flash | Yes |
| Video Specs | 1920 x 1080 @ 60fps |
| Mic In | Yes |
| Headphone Out | Yes |
| Built In Mic | Stereo |