It is fun to get creative even when taking "snapshots" and that is when photography becomes even more rewarding.  Amusement and Theme parks are full of amazing opportunities for images and last year my wife and I visited Disneyland without the kids (Hence the BIG smiles). I always strive to take some fun pictures that require you to get outside of the Automatic or Program modes.
Taking Creative Vacation Photos
This photo was taken on the Teacups in Fantasyland: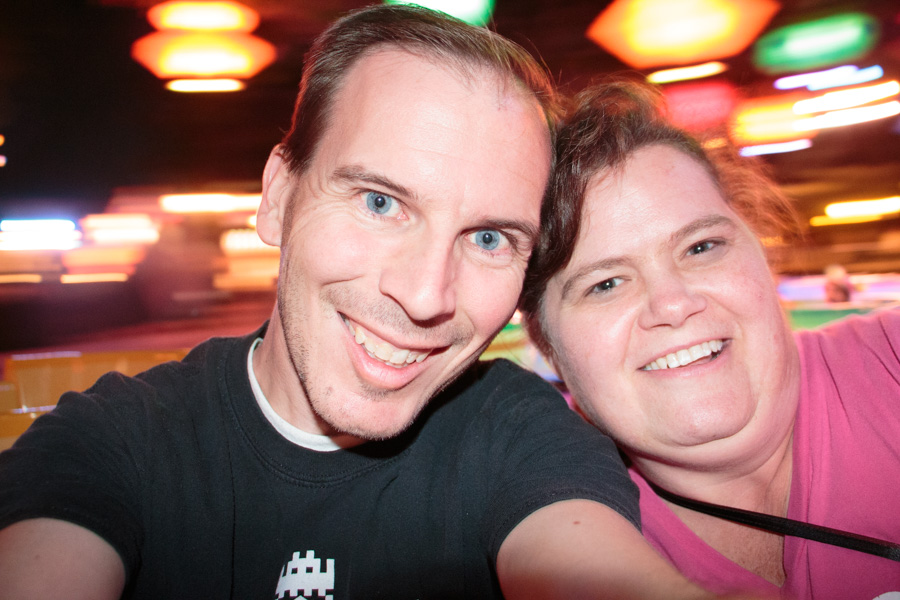 Here are the settings for the shot:
Camera:  Canon EOS 70D
Lens: Canon EF-S18-135 f.3,5-5.6 IS STM
Mode:  Tv (Shutter Priority)
Shutter Speed:  1/8 Second
Aperture: f/4.0
ISO: 3200
White Balance: Auto
Lens Focal Length: 18mm (29mm Equivalent)
Flash: Fired
There are a couple of things happening in this photo.  We are on a ride that has a lot of motion.  We specifically rode it at night so that we could get a fun shot that really tells the story of the movement.  By using the Shutter Priority mode and setting the shutter speed quite slow, the camera is able to record the movement with the blurred lights in the background.  Thankfully the lens was image stabilized as 1/8 of a second is quite difficult to handhold when not moving.  We got the ride spinning pretty fast, and then I was sure to use the pop-up flash to help further freeze our movement so that we are not blurred like the background and of course this also helped to illuminate our faces.
Don't be afraid to use your built-in flash in situations like this, it can really make a difference.  Because I had selected Shutter Priority mode, the camera then selected the aperture and the ISO values listed above, thus freeing me up to concentrate and the two hardest parts of taking this image:  first, to aim the camera on us since it is a "selfie" and secondly, to not get sick from the spinning.  Afterall, they prefer to call it the "Happiest place on Earth".