Sony E 10-18mm f/4 OSS Lens Review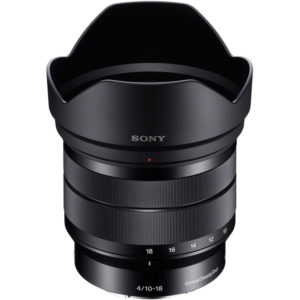 The Sony E10-18mm f/4 OSS is an ultrawide angle lens designed for the APS-C bodies such as the Sony A6000 and NEX series cameras. With a constant f/4 aperture this lens offers good light gathering capability. The lens features Sony's image stabilization, OSS (Optical Steady Shot) for handheld quality images. Overall this lens is quite small and lightweight, making it a great lens for backpackers and travelers.
I recently rented the Sony E 10-18mm f/4 OSS lens for a family trip to Southern Utah. I primarily planned to use the lens at Zion National Park, but also used it at Brigham Young's winter home in St George, the St George LDS Temple and an unexpected trip to Bryce Canyon. Read my full review for how I thought the lens performed using my Sony A6000 camera.
I rented the lens from Lensrentals.com. The lens was delivered on time and included a return label to make sending it back relatively painless. Upon receipt I immediately started to check it out and was amazed at how small the lens was for a super wide zoom with a constant f/4 aperture. the lens is 2.76″ in diameter and 2.5″ in length. The lens uses remarkably small 62mm filters. This lens is actually smaller than the Canon EF-S 10-18mm f/4-5.6 IS STM lens, and is built much better, including weather sealing, although you will need the new Sony A6300 body to complete the weather sealed system. The Sony E 10-18mm f/4 OSS lens weighs just under 1/2 Lb (7.94 oz). The lens also includes a petal shaped lens hood. The Sony E 10-18mm f/4 OSS lens seems a little expensive at $849, but when you look at the Canon and Nikon 10-xx zoom lenses, which are not constant f/4 apertures and do not have image stabilization, it is priced quite competitively.
Pricing*
Sony E 10-18mm f/4 OSS&nbsp-&nbsp$849.99
*Pricing from Manufacturer's website - Current selling price may be different.
Check current pricing from these affiliates
Image quality
Image quality was extremely good. We decided to hike the Navajo trail in Bryce Canyon and I carried my Sony system along with my Canon EOS 6D with the 40mm f/2.8 STM pancake lens and my 100-300mm f/4-5.6 USM lens. I never used the 100-300mm lens on my Canon, nor did I use the Sony 55-210 or the 50mm f/1.8 and could have left them back in the car (and saved some backpack weight!). However, I would rather carry them and not need them than wish I had them if a photo opportunity presented itself. Images are sharp and contrasty and the lens deals very well with flare as well (see the 2 examples at 10 and 18mm below). Distortion from ultrawide lenses is a difficult thing to gauge since the very nature of the lens distorts a scene to fit into the image circle of your camera. If you are into architecture, make sure you keep the camera level left to right and don't tilt it up or you will get a very exaggerated perspective distortion. The lens does exhibit some barrel distortion, especially at the widest angles, but is easily corrected in Lightroom by using the lens profile corrections.
Lens Flare
the lens handled flare quite well considering it's vast 10mm wide angle setting. When shot directly into the sun you will see flare and ghosting, but it is minimal and well controlled. Since the lens includes a lens shade, using that will also help to control flare when the sun is just outside the frame.
What I Like
I really like the size, weight and image quality of this lens. Overall this lens is very well designed and built to a higher standard.
What I Don't Like
About the only thing I don't like is the price, but that is not to say that this lens is not worth the price. As a photographer we always seem to want the impossible lens: 10-600mm f/1.4 that weighs less than a pound and costs less than $500, but quality does carry a price and like it or not, this lens is worth the price!
The Bottom Line
If you can afford it, and you need wider than 16mm – 18mm that comes with your kit lens, then this lens is absolutely highly recommended. While it will distort, no wide angle lens doesn't and this lens really meets and exceeded my expectations. The worst part about renting it was that I had to return it when I got back from my family vacation.
Sample Images
Click image to view larger - use your browser's "Back" button to return to this page.
Overall User Rating
4.70 out of 5
based on 377 user reviews online.
: 80% (300.53)
: 15% (57.29)
: 2% (8.16)
: 1% (3.08)
: 2% (7.94)