Nikon AF-S 17-35mm f/2.8D IF-ED Lens Review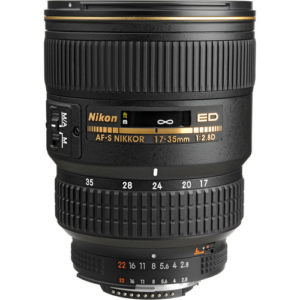 The AF-S Zoom-NIKKOR 17-35mm f/2.8D IF-ED is an ultrawide angle fast zoom lens designed for Nikon Full Frame Digital SLR cameras. It can also be used on APS-C (DX) bodies as well, but will yield an equivalent field of view as a 26-53mm lens on a full frame body. Thanks to the constant f/2.8 aperture this lens is a good choice for photographers who find themselves working in low light venues such as weddings and architecture.
Pricing*
Nikon AF-S Zoom-NIKKOR 17-35mm f/2.8D IF-ED&nbsp-&nbsp$1955.95
*Pricing from Manufacturer's website - Current selling price may be different.
Check current pricing from these affiliates
Overall User Rating
4.74 out of 5
based on 318 user reviews online.
: 81% (256)
: 15% (47)
: 3% (9)
: 2% (5)
: 0% (1)