Nikon AF-S 16-35mm f/4G ED VR Lens Review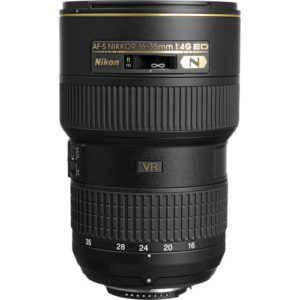 The AF-S NIKKOR 16-35mm f/4G ED VR is an ultra wide zoom lens Designed for Nikon full frame digital SLR cameras. The lens features a constant f/4 aperture and image stabilization. The lens also has a superior build quality and is weather proof.
Since the lens is designed for full frame cameras it can also be used on Nikon APS-C bodies as well. When used on the smaller sensor bodies the lens will give the same field of view as a 24-52mm lens.
I have not formally tested this lens yet, but plan to in the future. This lens gets very favorable reviews from photographers who have used it.
Pricing*
AF-S NIKKOR 16-35mm f/4G ED VR&nbsp-&nbsp$1099.99
*Pricing from Manufacturer's website - Current selling price may be different.
Check current pricing from these affiliates
Overall User Rating
4.69 out of 5
based on 671 user reviews online.
: 78% (522.36)
: 17% (115.08)
: 3% (18.28)
: 1% (4.76)
: 1% (9.14)