Nikon AF-S 24mm f/1.8G ED Lens Review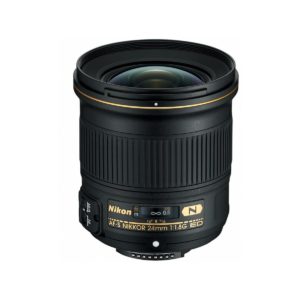 The Nikon AF-S 24mm f/1.8G ED is a wide angle prime lens for Nikon full frame digital SLR cameras. It features a fast f/1.8 maximum aperture that is ideal for low light interior shots. Because it's a wide angle lens, shallow depth of field is not as easy to achieve unless your subject is very close to the lens. This can lead to distortion known as "expansion".
Because the lens is designed for full frame bodies, it can be used on APS-C bodies as well. However, it will not provide the same near ultrawide angle of view when used on APS-C bodies. Instead it will provide a semi-wide angle of view similar to a 35mm lens on a full frame body.
Pricing*
Nikon AF-S 24mm f/1.8G ED&nbsp-&nbsp$749.95
*Pricing from Manufacturer's website - Current selling price may be different.
Check current pricing from these affiliates
What I Like
Excellent image quality
Fast f/1.8 aperture
What I Don't Like
72mm filter size.
No image stabilization.
Overall User Rating
4.61 out of 5
based on 82 user reviews online.
: 83% (68)
: 5% (4)
: 5% (3.96)
: 5% (4.08)
: 2% (1.96)