Canon EF-S 18-200mm f/3.5-5.6 IS Lens Review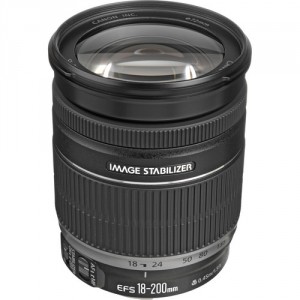 The Canon EF-S 18-200mm f/3.5-5.6 IS offers Canon APS-C owners an 11x zoom range in a single lens, ideal for people who want more versatility with their DLSR Camera. This lens covers from 18mm (29mm Equivalent on Full Frame) to 200mm (320mm equivalent on Full Frame) focal lengths.
Check current pricing from these affiliates
What I Like
11x Zoom Range is very conveienent
What I Don't Like
Focusing is loud and slower than USM lenses
Lens Hood not included
Larger than the competition
The Bottom Line
If you are looking for a single lens solution I would suggest you compare this lens with the Tamron 16-300mm lens. The Tamron is smaller and offers an even greater range for right around the same cost. The Tamron includes a lens shade and uses Tamron's USD (Ultrasonic Drive) focusing system for faster and quieter autofocus operations.
Overall User Rating
4.55 out of 5
based on 830 user reviews online.
: 65% (541)
: 29% (237)
: 4% (32)
: 1% (10)
: 1% (10)