Canon EF-S 18-135mm f/3.5-5.6 IS USM Lens Review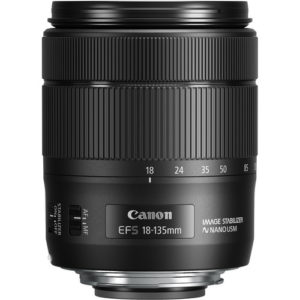 This new lens was introduced with the Canon EOS 80D as an improvement to the EF-S 18-135mm f/3.5-5.6 IS STM lens. The new version changes the AF from the STM Stepper Motor system to a new Nano USM designed to improve auto focus in both Still and Video. The lens continues with the same 67mm filter thread and 7.5x zoom with no significant changes to the optical formula or the overall size and weight of the lens. An interesting new feature for this lens is the connection available for the Power Zoom Adapter. This adapter is designed to further smooth the zoom action during video (although zooming in video is generally not recommended by professional videographers).
Pricing*
Canon EF-S 18-135mm f/3.5-5.6 IS USM&nbsp-&nbsp$599.99
*Pricing from Manufacturer's website - Current selling price may be different.
Check current pricing from these affiliates
Overall User Rating
4.81 out of 5
based on 101 user reviews online.
: 87% (87.92)
: 9% (9)
: 2% (2.08)
: 2% (2)
: 0% (0)