Canon EF-S 10-22mm f/3.5-4.5 USM Lens Review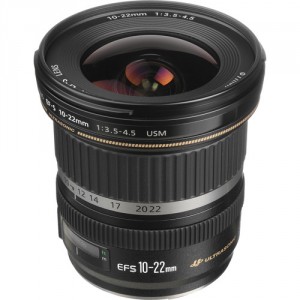 The Canon EF-S 10-22mm f/3.5-4.5 USM lens is an ultrawide angle lens designed for APS-C mount Canon cameras such as the Rebel series and the 30D, 40D, 50D, 60D, 70D, 80d and 7D/7DII bodies. This lens is somewhat fast with an f/3.5-f/4.5 aperture.
I have not formally reviewed this lens yet, but overall, owners of this lens seem to rate it pretty well. If you are considering this lens be sure to check out my side-by-side comparison with the Canon EF-S 10-18mm f/4.5-5.6 IS STM lens.
Pricing*
Canon EF-S 10-22mm f/3.5-4.5 USM&nbsp-&nbsp$649.99
*Pricing from Manufacturer's website - Current selling price may be different.
Check current pricing from these affiliates
What I Like
Reasonable fast f/3.5-4.5 max aperture
Decent build quality
USM Autofocus for fast and silent AF operations
What I Don't Like
No image stabilization
does not include lens hood
Overall User Rating
4.70 out of 5
based on 1503 user reviews online.
: 75% (1125)
: 22% (328)
: 2% (32)
: 1% (13)
: 0% (6)