Canon EF 85mm f/1.2L II USM Lens Review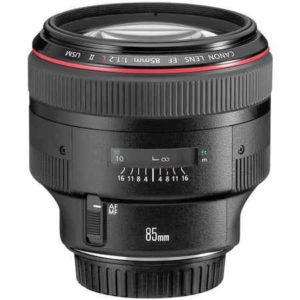 The Canon EF 85mm f/1.2L II USM telephoto prime lens is a great portrait lens on Full Frame and APS-C bodies. With it's f/1.2 max aperture the depth of field can be so minimal that you can have your subjects eyeball in focus and their eyelashes start to be out of focus (which is a bit to shallow in my opinion). This also makes the lens great for low-light applications such as concerts, plays and some sports. On full frame bodies this lens is a moderate telephoto and on APS-C bodies such as the Rebel series cameras the lens is similar to a 135mm on full frame.
Pricing*
Canon EF 85mm f/1.2L II USM&nbsp-&nbsp$1999.00
*Pricing from Manufacturer's website - Current selling price may be different.
Check current pricing from these affiliates
Image quality
The Canon EF 85mm f/1.2L II USM lens has excellent image quality and is frequently well reviewed. Of course when used wide open the image is a little soft, but stopped down to between f/2.8 and f/8 the lens sharpens up quite well. After f/8 diffraction starts to take it's toll, but the lens is still very usable up to f/16.
Build Quality
Being part of Canon's "L" family of lenses, the Canon EF 85mm f/1.2L II USM is built to that standard which is to say the lens is built like a tank. Working pros are hard on their equipment and as such their gear needs to be tough.
What I Like
f/1.2 Max Aperture
Fast & Silent Autofocus
Excellent Image Quality
Great build quality
What I Don't Like
Expensive
No Image Stabilization
Very heavy
The Bottom Line
If you need shallow depth of field or find yourself working in low light conditions often then I highly recommend this lens, if you can afford it that is. Just be careful when shooting portraits at f/1.2 as the depth of field can be so shallow that your subject will appear soft. When shooting couples be sure to stop down a bit so both subjects are in focus.
Overall User Rating
4.83 out of 5
based on 986 user reviews online.
: 86% (850.56)
: 11% (111.4)
: 2% (16.52)
: 1% (5.68)
: 0% (1.84)