Canon EF 75-300mm f/4-5.6 III Lens Review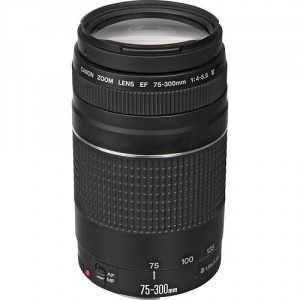 The Canon EF 75-300mm f/4-5.6 III is Canon's budget friendly 70-300mm consumer zoom lens. This lens is frequently offered as a bundled lens option with some of their entry level DSLR cameras. When purchased in these bundles you get this lens at a pretty significant discount and even at full retail the lens is priced competitively against many of the competing lenses in this class. For some users, having a lens with the Canon name on it is worth the small price difference when compared to competing lenses from third party manufacturers
Pricing*
Canon EF 75-300mm f/4-5.6 III&nbsp-&nbsp$199.99
*Pricing from Manufacturer's website - Current selling price may be different.
Check current pricing from these affiliates
Build Quality
Build quality is mediocre, but for the price point not horrible. The lens makes extensive use of plastics and feels somewhat hollow and empty. The Canon EF 75-300mm f/4-5.6 III lens does feature a metal mount thankfully, so the build quality could be worse.
What I Don't Like
Slow and noisy autofocus
not internally focused
Lens shade not included
The Bottom Line
If you are looking for a 70-300mm lens to add to your kit, I would suggest you save up for a better lens such as the Tamron 70-300mm f/4-5.6 VC USD instead. For the price difference you get Image Stabilization, as well as faster and silent auto focus. the Tamron provides slightly better image quality as well. However, if you get a chance to buy this lens as part of a bundle deal then it might be worth looking at since the effective purchase price can be around $100 to $150.
Overall User Rating
4.41 out of 5
based on 1996 user reviews online.
: 59% (1179.33)
: 28% (563.19)
: 8% (168.77)
: 3% (53.12)
: 2% (31.59)