Canon EF 300mm f/4L IS USM Lens Review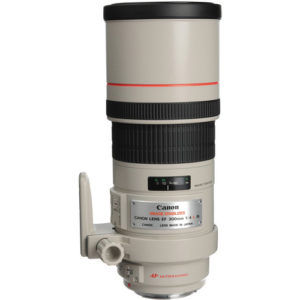 The Canon EF 300mm f/4L IS USM is a relatively inexpensive professional grade telephoto prime lens designed for Canon full frame digital SLR cameras. It can also be used on Canon APS-C bodies and will provide an equivalent field of view to a 450mm lens on a full frame body.
The lens features a relatively fast f/4 maximum aperture for work in lower light than the consumer 70-300mm zoom lenses that are a full stop slower at 300mm than the Canon EF 300mm f/4L IS USM.
I have not formally tested this lens yet, but plan to in the future. Generally the lens is favorably reviewed by photographers who own and use it.
Pricing*
Canon EF 300mm f/4L IS USM&nbsp-&nbsp$1349.99
*Pricing from Manufacturer's website - Current selling price may be different.
Check current pricing from these affiliates
Overall User Rating
4.76 out of 5
based on 394 user reviews online.
: 77% (302.1)
: 19% (76.05)
: 3% (9.95)
: 3% (13.4)
: 1% (2.95)