Canon EF 200mm f/2L IS USM Lens Review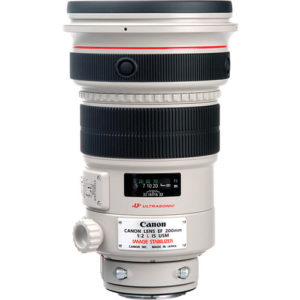 The Canon EF 200mm f/2L IS USM is a telephoto prime lens specifically designed with Sports in mind. With a f/2 max aperture this lens is able to gather light in dim lit venues and stadiums allowing the photographer to use fast shutter speeds and keep the ISO settings lower. This lens is very large and heavy, especially when compared with the Canon EF 200mm f/2.8L II USM. This lens is also very expensive at $5,699.99 making it a lens that will typically be found in magazine and news agency pools, or a great rental option. I have not formally tested this lens, but had a brief opportunity to check it out and was very impressed with it's performance. This is very specific purpose lens and the next time I have an opportunity to shoot a night football game I will likely rent this lens and review it at that time.
Pricing*
Canon EF 200mm f/2L IS USM&nbsp-&nbsp$5699.00
*Pricing from Manufacturer's website - Current selling price may be different.
Check current pricing from these affiliates
Overall User Rating
4.94 out of 5
based on 80 user reviews online.
: 94% (74.95)
: 6% (5.05)
: 0% (0)
: 0% (0)
: 0% (0)