Canon EF 100mm f/2 USM Lens Review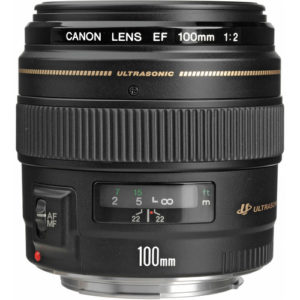 The Canon EF 100mm f/2 USM is a fast telephoto prime lens for Canon APS-C and full frame Digital SLR cameras. This lens is very popular for portraits and sports due to it's fast f/2.0 aperture. For portraits this provides a nice shallow depth of field. It is also great for sports in low light as this lens allows you to keep faster shutter speeds at lower ISO settings.
When mounted on an APS-C body such as the Rebel series this lens provides a field of view similar to a 160mm lens on a full frame or film camera.
From Canon USA's Website
Despite the large maximum aperture, the lens remains compact. Lens group 5 moves for rear focusing, and sharp, crisp pictures are obtained at all apertures. The background blur is ideal for portraits. The USM autofocuses the lens quickly and quietly.
What I Like
Fast f/2.0 aperture
internally focuses
fast and silent autofocus
great image quality
metal mount
distance scale with hyper focal distance markings
What I Don't Like
Does not include lens hood
Does not have image stabilization
Conclusion
Overall this lens is rated very well among it's users. Out of 202 reviews the lens has an overall average rating of 4.73 out of 5 stars. If you need a fast 100mm lens there are not a lot of alternatives out there and it costs less than $500, which is not bad for a fast telephoto lens.
Pricing*
Canon EF 100mm f/2 USM&nbsp-&nbsp$499.99
*Pricing from Manufacturer's website - Current selling price may be different.
Check current pricing from these affiliates
Overall User Rating
4.73 out of 5
based on 202 user reviews online.
: 76% (152.99)
: 22% (45.12)
: 1% (2.89)
: 0% (1)
: 0% (0)