When I was a boy scout we built kayaks one summer and would take them out on lakes to paddle and fish. Ever since then I have enjoyed still water kayaking, but have been without a kayak for far too many years. I recently purchased a 10-foot kayak made by Sun Dolphin and took it out on it's maiden voyage. I decided to visit Causey Resevoir in Northern Utah this past weekend. This lake has always captivated me and I have dreamed of exploring it by kayak for years. I imagined the photo opportunities in the 2 main forks on the eastern edges are amazing, so of course I took a camera: my Sony A6000 with the 18-55mm and 55-210mm lenses.  This will recount my adventure of kayaking with a camera.
Keep your camera dry
The primary concern is keep in the camera and lenses dry. I picked up a set of inexpensive "dry bags" and loaded my camera with the 18-55mm lens in a padded case. That bag was placed in my largest dry bag. I loaded the 55-210mm lens in a padded case. I placed it in the middle sized one and used the smallest dry bag to hold my phone, keys and watch. All 3 bags were tethered to my Kayak just in case it were to flip and keep my expensive gear from sinking to the bottom of the lake.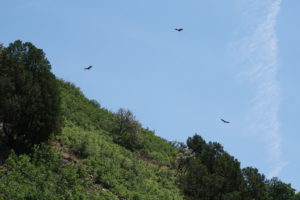 It was a pain to get the camera out each time I wanted to use it, so I didn't take many pictures. That was ok since I got a late start. The lake was extremely crowded due to the holiday weekend and the flat tire I got as I arrived at the lake certainly delayed my adventure. Due to the late start, the lighting was harsh mid afternoon sun. But what do you do? Get up earlier next time! But this was really just a scouting trip anyway, so I wasn't expecting any great pictures.
Fear of Water
Unfortunately I did see quite a bit of wildlife and missed shots due to the difficult access to my gear. I saw a bunch of eagles flying overhead, and was able to get a few shots with my 18-55 lens. I didn't dare change lenses in the kayak, even though I was nice and dry. Just the thought of juggling my expensive gear in the middle of the lake was quite nerve racking!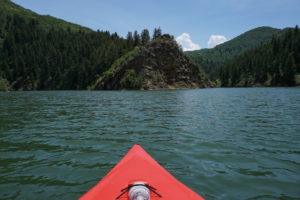 As I continued to paddle away, I would occasionally stop, dig out my camera, take pictures, then put it back and resume paddling. When shooting I was sure to use the wrist strap to keep my camera from falling out of the boat.
I really appreciated the small size of my Sony A6000, but really wish I had an 18-135mm lens instead. The 18-135mm lens on my Canon 70D is a great range. I would love to see Sony produce an 18-135mm lens for the E-mount system. I find that a 7x zoom is just about the perfect all-in-one lens. When you go more than 7x zoom image quality suffers and the size of the lens starts to get bigger and heavier.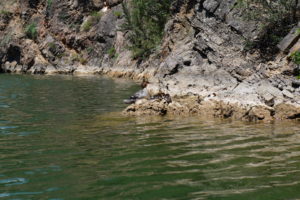 How to store the camera on board
Another wish is for a better bag or case for my camera gear. I started looking at Lowepro's website since I know they make a few waterproof cases. I have tested a few of the older designs in the store, but the zipper on the older bags was not just a pain, but sometimes felt impossible to zip all the way. However, it looks like they read my mind and came out with a new design based on standard dry bags. To close, you simply fold the flaps over at least 3 times and then secure them. I'm seriously considering getting the Lowepro Dryzone DF20 duffle bag before my next outing. Since space is at a premium on a kayak, this bag appears to be a good compromise in size and capacity. I will of course secure it to my kayak for safety, but this bag should be a lot easier to access my camera.
Conclusion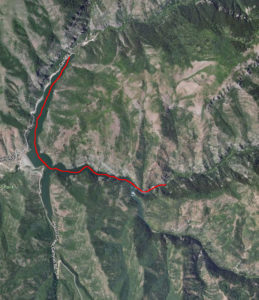 I am looking forward to many more exploratory kayak adventures in the near future. I plan to kayak into Antelope Canyon and many others at Lake Powell and paddle around the Great Salt Lake and perhaps to some of the islands. Still water kayaking is relaxing and enjoyable. Properly securing your gear will make it that much more enjoyable.