Canon EOS 6D Camera Review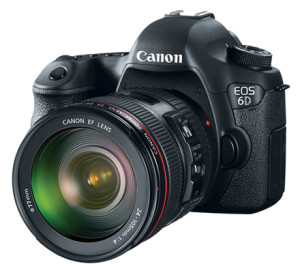 The Canon EOS 6D was introduced in September, 2012 as Canon's most affordable full frame DSLR camera. When it was introduced in was $1,999 body only and $2,699 with the EF 24-105 f/4L IS USM lens. Overall it was well received, sporting a simpler AF system than the 5D Mark II, but improved over the original 5D. I see this camera as a replacement to the 5D Mark I version and the 5D Mark II version becomes the "upgraded" model in the Canon line-up. I personally owned a 6D and overall really liked it a lot!
Pricing*
Canon EOS 6D Body Only&nbsp-&nbsp$1999.99
Canon EOS 6D with EF 24-105mm f/4L IS USM Lens Kit&nbsp-&nbsp$2699.99
*Pricing from Manufacturer's website - Current selling price may be different.
Check current pricing from these affiliates
Product Images
Size & handling
Size wise, the Canon EOS 6D is a little bit bigger than the 70D (without the battery grip of course) and even larger than the Rebel series cameras, but it is slightly smaller than the 5DIII series cameras and of course even smaller than the 1Dx flagship body from Canon. I primarily use this camera with the EF 40mm f/2.8 STM Pancake lens which makes for a quite compact system and a focal length that really fits my shooting style. The viewfinder is big and bright (It must be made in Texas). Using a Pentaprism really makes a difference vs the dimmer pentamirrors found in most lower cost cameras. Even though the viewfinder does not provide 100% coverage, I don't find this to be a problem since I typically don't frame my images right up the edges anyway. It is good practice to leave some room for future cropping options.
Image quality
Image quality from the Canon EOS 6D is very good, especially at the base ISO setting of 100. My blue skies are completely noise free and detail is very high. Bump up the ISO and the image quality is great even at ISO 6400 – especially when compared to my APS-C bodies. ISO 12,800 starts to fall apart, but I would be comfortable printing an 8×10 or even an 11×14 at that setting. The Canon EOS 6D uses a 20mp sensor and while the competition uses 24mp in their cameras, most people wouldn't notice the difference in 20×30 prints anyway. Megapixels are not the end all be all of digital photography. These are 100% crops (click to see full size) from the Canon 6D with noise reduction turned off. The Last 3 are "extended" ISO settings that must be enabled in the menu (Shooting Menu 3 – ISO Speed Settings):
Autofocus Performance
The autofocus uses Canon's very simple, yet very reliable 11-point system. of course I pretty much keep mine set to the center and use the "Focus lock and recompose" method and have great results. In dim lighting this camera can lock on focus where most cameras will hunt and peck like mad. With a rating of -3ev, I can attest that this camera lives up to the hype. If you find yourself shooting in dim light (like at night) this is a great camera! Check out the following video from Canon on the autofocus system of the Canon 6D:
Build Quality
Overall the build quality is very good. Most of the body is magensium alloy, except for the top plate which is plastic (for the Wifi and GPS). The body is also weatherproof to help resist light rain and snow, but it is not water proof. The camera feels very solid and reassuring in the hand.
What I Like
Overall I really like the simplicity of the AF system (I am not a sports shooter). I also really like the overall handling and control layout. Image quality is very good and the AF is fantastic, especially in low light!
What I Don't Like
No camera is perfect and unfortunately the Canon EOS 6D is no exception. I wish it had a built-in flash, mostly so I could use it as a commander like on some of the other newer Canon EOS bodies with built in flashes can. But with the new 430EXIII RT flash I might be willing to overlook this missing feature. It would also be nice if the camera had dual SD card slots like some of the competitors, but I rarely find this to be a necessity in real life. I also wish the camera had an articulated touch screen like my 70D that I owned before this, but we can't always have what we want. One thing that really drives me crazy on Canon cameras is the procedure for setting a custom white balance setting: Take a picture of my gray card, go to the menu and locate the "Custom White Balance" option, the camera will then display the last image taken, hit OK, then hit OK again to confirm, the camera will then display a message instructing you to set the camera to the Custom White Balance Mode, even if you are already in the custom WB mode (doh!). If you are not in the Custom White Balance mode, you now have to go to the menu, go to the "white Balance" setting and then select the "Custom White Balance" option. This is further complicated by the fact that the camera does not have a dedicated "WB" button on the body (like the Digital Rebel cameras). Thankfully Canon does give you a "Custom Menu" where you can add up to 6 menu options (wish you could add more). I have added both of these menu options to mine and another recent addition by Canon is the "Q" button which gives you access to their "Quick Menu" and White Balance is found on that (but not the Custom WB setting).
The Bottom Line
As I said in the opening paragraph, I own a Canon EOS 6D and I love it! Especially in the darker conditions in which I love to shoot. The WiFi is cool, especially when used with the smartphone app as a trigger, and the GPS is great when I am traveling, although I typically leave these features Off since they do drain the battery faster when they are active. I wish it had a few more exterior controls like the 5DIII, but for the price this is a fantastic camera and one that I highly recommend (obviously).
Sample Images
Side-by-Side Comparisons
Recommended Accessories
Overall User Rating
4.74 out of 5
based on 1905 user reviews online.
: 81% (1538)
: 15% (289)
: 2% (40)
: 1% (25)
: 1% (14)

Shop
Specs
| | |
| --- | --- |
| Sensor Size | Full Frame |
| Megapixels | 20.2 |
| Body Construction | Magnesium Alloy and Plastic |
| Dimensions (WxHxD) | 5.7 x 4.4 x 2.8 |
| Weight | 1.65 |
| Weather Sealed | Yes |
| Memory Card | SD |
| Dual Command Wheels | Yes |
| Viewfinder Type | Pentaprism |
| Viewfinder Coverage | 97 |
| ISO Range | 50-102400 |
| Mirror Lock Up | Yes |
| Burst Rate | 4.5 |
| LCD Size | 3 |
| LCD Resolution | 1,040,000 |
| Articulated LCD Screen | No Articulation |
| Touchscreen | No |
| Image Stabilization | No |
| Remote Shutter Release | Wired & Wireless (InfraRed) |
| WiFi | Yes |
| GPS | Yes |
| AF Points | 11 |
| AF Sensitivity | -3 ev |
| Minimum Shutter Speed | 30 seconds |
| Maximum Shutter Speed | 1/4000 second |
| Flash Sync Speed | 1/180 second |
| Built In Flash | No |
| Wireless TTL Flash | No |
| Video Specs | 1920x1080 (Full HD) : 30p/25p/24p 1280x720 (HD): 60p/50p 640x480 (SD): 30p/25p |
| Mic In | Yes |
| Headphone Out | No |
| Built In Mic | Stereo |