Canon EOS 6D Mark II Camera Review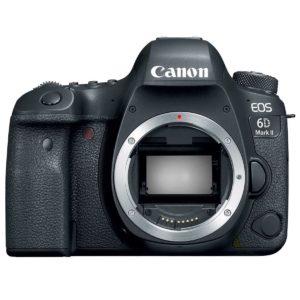 Canon has announced the long awaited follow up to their entry level full frame EOS 6D body with the new Canon EOS 6D Mark II. The major updates are a 26.2 megapixel full frame sensor, 45-piont autofocus and a fully articulated 3″ LCD screen that is now also touch sensitive. The new 6D MkII also adds NFC for transferring images with Android phones and other devices that support NFC. Sadly, the iOS does not support NFC for anything other than Apple Pay.
Of course many video fans are complaining that the EOS 6D Mark II does not feature 4k video recording, but Canon did improve the video to now support 1080 @ 60P, which is an improvement over the original 6D.
Pricing for the camera is in line with the original at $1,999 for the body only or can be had with a choice of 2 "kit" lenses: the 24-105 f/3.5-5.6 IS STM lens or the new 24-105mm f/4L IS USM II lens.
Having previously owned the Canon 6D, most of the updates I see as very welcome, but probably the most exciting for me would be the articulated touch LCD screen. This is a feature I sorely missed from my Canon EOS 70D. I didn't use the screen to compose shots very often, but it was nice to have, but my favorite part of the articulated LCD was the ability to close the screen when not in use. This affords a level of protection from scratches and breaking that I really like and miss with my D750.
The Canon EOS 6D II is one of the most under-rated cameras in 2018. There was a lot of initial complaints of lack of dynamic range when compared to some of it's competitors, and of course the lack of 4k video. However, it is still an excellent camera with a lot of features that other cameras don't have such as the fully articulated LCD screen and Built-in GPS.
Pricing*
Canon EOS 6D Mark II DSLR Body Only&nbsp-&nbsp$1999.00
Canon EOS 6D Mark II DSLR with EF 24-105mm f/4L IS USM Lens &nbsp-&nbsp$3099.00
Canon EOS 6D Mark II DSLR with EF 24-105mm f/3.5-5.6 IS STM Lens &nbsp-&nbsp$2599.00
*Pricing from Manufacturer's website - Current selling price may be different.
Check current pricing from these affiliates
Overall User Rating
4.47 out of 5
based on 627 user reviews online.
: 71% (447.88)
: 16% (101.32)
: 5% (29.48)
: 3% (20.84)
: 4% (27.48)

Shop
Specs
Sensor Size
Full Frame
Megapixels
26.2
Body Construction
TBD
Dimensions (WxHxD)
5.67 x 4.35 x 2.94
Weight
1.69
Weather Sealed
Yes
Memory Card
SD, SDHC, SDXC
Dual Command Wheels
Yes
Viewfinder Type
Pentaprism
Viewfinder Coverage
98
ISO Range
100-40000 (50 - 102400 extended range)
Mirror Lock Up
Yes
Burst Rate
6.5
LCD Size
3
LCD Resolution
1040000
Articulated LCD Screen
Tilt & Swivel
Touchscreen
Yes
Image Stabilization
No
Remote Shutter Release
Wired & Wireless (InfraRed)
WiFi
Yes
GPS
Yes
AF Points
45
AF Sensitivity
-3 to 18 ev
Minimum Shutter Speed
30
Maximum Shutter Speed
1/4000
Flash Sync Speed
TBD
Built In Flash
No
Wireless TTL Flash
No
Video Specs
1920 x 1080 @ 60p / 60 Mbps, MP4, H.264, AAC
1920 x 1080 @ 30p / 30 Mbps, MP4, H.264, AAC
1920 x 1080 @ 30p / 12 Mbps, MP4, H.264, AAC
1920 x 1080 @ 23.98p / 30 Mbps, MP4, H.264, AAC
1280 x 720 @ 60p / 26 Mbps, MOV, H.264, AAC
1280 x 720 @ 30p / 4 Mbps, MOV, H.264, AAC

Mic In
Yes
Headphone Out
No
Built In Mic
Stereo