Sony E 55-210mm f/4.5-6.3 OSS Lens Review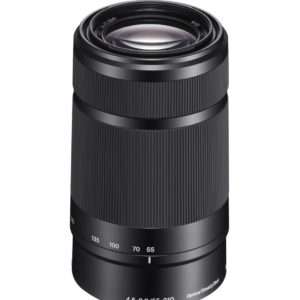 The Sony E 55-210mm f/4.5-6.3 OSS is a compact telephoto lens designed for Sony E-Mount APS-C Mirrorless cameras. It provides a 35mm equivalent field of view of a 82.5-315mm lens. This lens can be mounted on Sony Full Frame bodies but the images will be cropped accordingly.
This lens is often available as part of a kit with select bodies at a discount making it an excellent value.
I personally own this lens and used it with my A6000 until it went swimming in a small stream. It still works but at the 55mm setting on my A6000 it makes a continuous clicking sound so I don't use it any more.
The image quality on this lens is ok, but not great. For best results use a tripod and turn off the image stabilizer. Using f/8 also helps to improve the quality as well.
I wish that Sony offered a moderately priced 70-300mm lens around $500. There is a hole between this lens at $350 and the next step up, the recently introduced E 70–350 mm F4.5–6.3 G OSS, that is $1000.
Pricing*
Sony E 55-210mm f/4.5-6.3 OSS&nbsp-&nbsp$349.99
*Pricing from Manufacturer's website - Current selling price may be different.
Check current pricing from these affiliates
What I Like
Small size
image stabilization
What I Don't Like
f/6.3 min aperture at 210mm
The Bottom Line
When purchased alone at the full retail price of $350 this lens is a decent performer, although not stellar. It makes a good companion to the 18-55mm and 16-50mm kit lenses. When purchased with select bodies you will often see up to a $200 discount on the Sony E 55-210mm f/4.5-6.3 OSS lens. This makes the lens a great value.
Overall User Rating
4.50 out of 5
based on 1951 user reviews online.
: 65% (1275.68)
: 25% (486.72)
: 5% (103.84)
: 3% (50.84)
: 2% (33.92)