Learn Photography and how to take better pictures!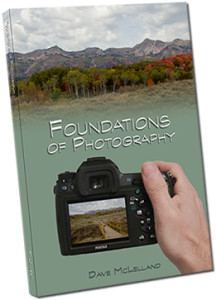 Also available in Kindle Edition on Amazon.com
Foundations of Photography is based on the classes taught by Dave McLelland. In this book you will learn how to Operate your Canon, Nikon, Olympus, Pentax or Sony DSLR/ILC Camera, Composition, Lighting, and Exposure. Learn the same techniques the pros use to get great pictures.
Book Reviews
This is a simple to understand book that will help you get away from auto mode on your expensive digital camera. You will be able to begin to get those shots that it was designed to take. The book will also help you understand how lighting and other elements effect the way your pictures turn out. Heat book would recommend to anyone who wants to get more from their camera.
This is a great book. The author has a very concise way of explaining the functions of the camera and how to apply the concepts to taking great pictures! You can tell he is familiar with all types of camera's. I keep referring back to this book whenever I am stuck on why my pictures didn't turn out as planned. Very good book for anyone to get started with digital photography.
This book written by Dave is a must for anyone looking to have a better understanding of photography. This book will allow you to get out of the automatic mode from your camera. You will learn the techniques needed for taking those pictures of your children at sporting events where flash photography is prohibited. You will no longer be one of those individuals that covers your flash with your hand or worse yet, forces the pop up flash back down into your camera. In a nutshell. You will be free of the camera making all the decisions and finally behind the wheel driving your own results!